---
Bangers 'n' Bacon was born organically when Pete Nolan decided to create additive-free meat products for his children, whose food allergies meant sausages and bacon were banned in their household.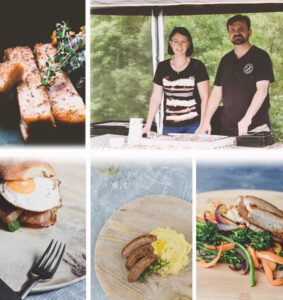 Not wanting to face a life without some of his favourite foods, Pete began producing different recipes, with the challenge of not using any gluten, dairy, wheat, soy, corn, egg, tomatoes, artificial preservatives, nitrates, colourings or flavourings.
The end result – after four years of trialling and testing – was a delicious range of low allergy products the whole family could enjoy.
Minimally processed and created using only top quality, locally sourced meat, herbs and special homemade seasoning blends, the low carb products are also a popular choice for those on keto or similar diets.
Pete's family and friends were also very impressed with the products, with some commenting that the sausages 'taste so good you don't need sauce' – which became the business's tagline.
"If any product we create doesn't meet this one simple criteria, then it won't make the cut," say Pete and his wife Angela, who opened for business in December last year.
Sausage products to choose from include Original Pork, Peppered Pork, English breakfast, Italian Pork and Beef (in mild or hot 'n' spicy), and Chipotle Pork and Beef.
The nitrate-free bacon products, available in streaky and loin cuts, are cured using just salt and raw sugar (one percent), then beautifully smoked on a charcoal barbecue with a blend of apple and hickory woods.
With an array of additional products and more in the pipeline, Pete says they are always open to feedback.
"We constantly have the customer in mind, with everything we do."
Deemed an essential business, Bangers 'n' Bacon continued operating throughout the lock-down.
Produced from a factory in Ferrymead, customers can order online, pick up, or find them at a range of markets.
For more information, check out the website, email orders@bangersnbacon.com and follow on Facebook.  www.facebook.com/bangersnbacon
---