---
In 2007 the retail store of McDonald and Hartshorne was in Manchester Street. It mainly stocked Danske Møbler furniture, along with New Zealand made furniture from both local and nationwide suppliers.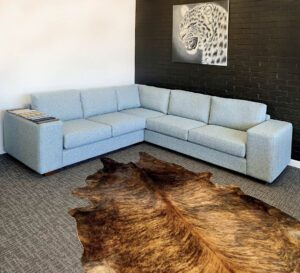 February 2011 brought serious changes to the business and it returned to doing what it did best when it first began back in 2004 – the restoration and reupholstery of existing furniture, as well as the retail of new and bespoke furniture to repeat clientele.
The showroom at 424 St Asaph Street showcases choice pieces, such as the Danske Møbler modular bookcases that are available in three sizes.
McDonald and Hartshorne are proud supporters of Jade Furniture, a local quality furniture manufacturer that's been in the industry for over 30 years, offering beech frames on suites with a 15-year warranty. All seating is made of Elephant Foam, an NZ made product, as are the feather and pearl cushions, and locally made duvet wraps.
McDonald and Hartshorne are also associated with other top leading NZ manufacturers to assist with clients' furniture requirements. Keith Hartshorne happily works with clients, guiding them throughout the process to attain their bespoke lounge piece or suite, tailored to their needs, including corner suites which are made-to-measure.
For reupholstery, Keith can also visit the client's home, office or worksite, by appointment, to give a free no-obligation quote.
---