---
This season designers aren't completely reinventing the wheel. Instead, they're building upon the already strong foundations, adding embellishments here and there or introducing new shapes and materials. Stepping out has never been this much fun.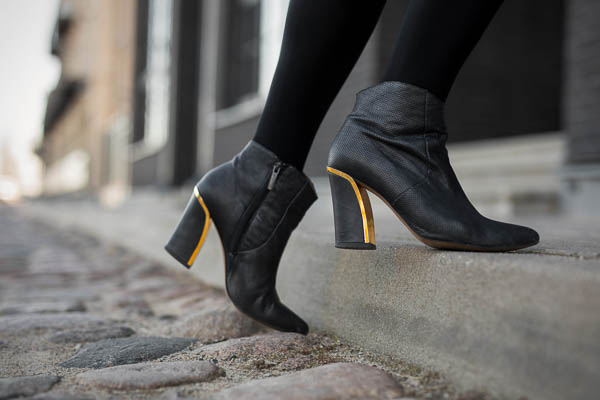 Flat out
Flat shoes are this winter's busy life saviours – and they don't even have to be pretty. Clunky comfort rules, as these edgy pavement pounders are super practical and super comfortable. Sneakers have snuck into our lives in such a big way now. They are often really affordable – so lace up a pair for every look.

---

Cute Boots
Slouchy or sleek, knee-high boots look groovy with this season's minis for that back-in-fashion '70s vibe. And under the midi and maxi lengths, they guarantee complete cover-up from the bitter chill. Block, cylindrical heels and square toes reign in vegan leather through to swish suede. Sturdy-heeled ankle boots are also pumping the fashion trail, so very sassy teamed with skinny pants and flowy-sleeves.

---

Beyond the black
Try zipping up your boots in chic navy, utilitarian khaki and tan tones, or rich racing green. Blush pink is still a staple, streamlining nude-toned winter outfits. Pale pairs well with light and natural heels. On the deeper side, burgundies and all the hues of a vintage-wine cellar look sumptuously warm where you would usually choose a noir neutral.

---

Toe-tapping texture
Embellishment with brocades add a crafty cool look, which is great with denim, whereas the high-gloss patent-leather look trawls back all the fun of the glam-rock '80s and the swinging '60s. Hot tip: this shiny canvas is so easy to keep clean and footwear seems to retain its newness. Studs are making a statement, if you prefer to incorporate attitude into a pretty pair.

---

Designer foot work
New Zealand-designed Mi Piaci footwear are slinking in the texture of snake-effect leather, along with funky flared and offset heels, and also asymmetric top lines. Minx footwear has futuristic black and white flats with thick-soled bounce. And the Kiwi-made queen of comfort, Ziera, is offering up white-soled sneakers this season, seen in silver, classic styles and even floral. Locally, Mikko Shoes has pulled together one of our favourite ranges of quality, hand-selected footwear.
So be prepared to make room in the wardrobe for a bigger shoe rack – no one will be able to walk past this winter line-up.
---