---
Holly Lea Village, located in the heart of Fendalton, has been well-established as one of Christchurch's premier retirement lifestyle villages. This is set to be enhanced as IKON Architects has been working with Generus Living Group to refresh the existing facility and design significant additions to expand the range of living options available within their existing three-acre site.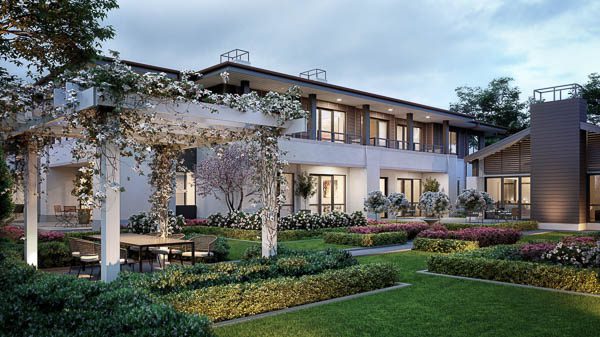 Construction commenced recently on the initial stage of the new development, The Morven Apartments. Sited just northeast of the existing facility, this two-storey apartment building, comprising eight generous two-bedroom apartments, will be linked via a covered walkway bridging the re-styled stream running through the grounds.
Following this, a second building offering a mix of 20 one and two bedroom apartments will expand the Tui Street frontage of Holly Lea Village. The architectural detailing both inside and out are of the highest quality in keeping with Generus Living Group's established reputation of providing high-end retirement living.
To ensure these buildings integrate seamlessly into their established surroundings, architectural features have been carefully articulated to maintain a residential scale. Wide, low roof forms with expansive eaves taking cues from mid-century modern architecture are employed to match the existing buildings.
The façade is modulated at ground level with a rendered concrete block base that encapsulates outdoor patio areas, whereas the weatherboard-clad first floor is recessed to form generous private balconies.
With future developments on the horizon, IKON Architects is excited to work with Generus Living Group to provide more people with the opportunity to experience the very best in retirement living at Holly Lea Village.
---