---
Eighty years. It's a milestone held by a cyclist, his bicycle, and a challenging race across Banks Peninsula. Octogenarian John Winkie is aiming to raise $80,000 for research to help those with debilitating spinal cord injuries get back in the saddle again.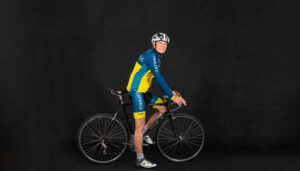 John will be cycling on his trusty 1940s bicycle from Christchurch to Akaroa, to raise funds and awareness for The CatWalk Spinal Cord Injury Research Trust.
Originally an entrant in the now-cancelled Le Race, John will still tackle the course with his cycling buddies.
John's desire to help came after his biking buddy Jim Dollimore took a debilitating tumble while cycling in February.
"It was a tribute to him and a tribute to the people at Burwood hospital" he says of his close mate's recovery. He was totally paralysed, but is now back on his feet and on the mend."
Only ever breaking a couple of bones himself, two more of John's fellow cyclists have also bounced back from serious spinal injuries, through the amazing help and support they received.
However, some are not so lucky. New Zealand has one of the highest rates of spinal injuries through accidents in the world.
The CatWalk Trust is supporting very promising research worldwide and locally at the Spinal Cord Injury Research Facility (SCIRF).
Every year in New Zealand, close to 80 to 130 people suffer acute spinal cord injury, the majority occurring in males between 25- and 45-years of age.
A global body of very promising evidence is that a cure will be found. John was aware of the funding needed to for this critical research.
East London born, he bought his Duckett Superlite bicycle for his paper round and a London to Wales cycle marathon at the age of 12.
It has since had the gears modified for hill rides, spokes replaced, and it's repainted black. Immigrating to New Zealand with his wife Maria in 1973, he now resides and cycles regularly in Omaha Beach, Auckland.
"My daughter rode my bike in club races in the '80s, but it has since been gathering dust under the house. It was just by chance that it was still hanging around, so I took it out a couple of months ago."
The superstar octogenarian is a national bike-industry legend, and holds the title of Masters World Mountain Biking Champion, and will be hopefully competing in the Masters Games next year in Japan.
John invented the revolutionary Keywin Speed Pedal when he was General Manager at Franklin Machinery – a twist-out release principle, now a standard by pedal makers worldwide. His innovation is a lifesaver at traffic lights.
The six foot, slim 80-year-old attributes his eternally fit agility to "a very balanced lifestyle, no fads and drawing from the theories of Kiwi Olympiad Arthur Lydiard. I just keep going, I've always been naturally damn fit!"
"I'll be travelling down to Christchurch with our riding group, The Warkworth Riders, and I'm looking forward to meeting up with my old racer buddies in Christchurch as well. I know there will be some really big hills, but I should finish in around five hours, going at a speed of 20 to 25km/h."
Despite no official race, John will still be a big winner in the race to get people up and out of their wheelchairs.
---