---
Ten years ago, during the time of the Global Financial Crisis, Lucy Hone (now Dr Lucy Hone) couldn't turn on the news or pick up a newspaper without being told we need to be resilient and that the economy needs to be resilient. "I wondered, does anyone actually know what this word means?" she says when we catch up ahead of her TEDxChristchurch talk last month.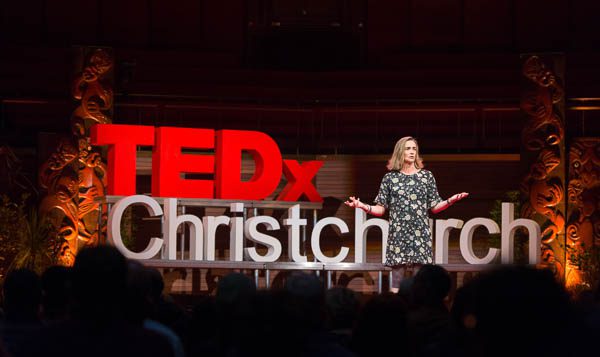 A freelance writer at the time, she decided to work on an article about resilience and what it means. During her research, she stumbled across the University of Pennsylvania in Philadelphia, the home of resilience psychology.
She didn't end up writing the article, but instead enrolled in their long-distance Master's Degree, before completing her PhD here in New Zealand. "When I got there, the department that trained me had just picked up the contract to train all 1.1 million American soldiers to be as mentally fit as they were physically fit," Lucy says.
"So for someone like me whose absolute main quest is how to take the research findings, drag them out of the hallowed halls of academia and bring it to the people so it can be useful in everyday lives, it was an amazing time to be there."
On Queen's Birthday weekend in 2014, the sudden death of her 12-year-old daughter, Abi (along with Lucy and Abi's friends Ella and Sally Summerfield) in a tragic road accident forced Lucy to turn her substantial academic training and professional practice to foster resilience in very personal way.
"Parental bereavement is widely recognised as the worst loss to bear, but I was more fortunate than most; I had this training; I had seen this research; I knew there was hope that we could somehow get through, but more than anything, I had these tools to rely on," Lucy says.
Now she's taking those tools to our schools. Two years ago, Lucy and her colleague Dr Denise Quinlan formed the New Zealand Institute of Wellbeing and Resilience, focusing on working with schools, as well as corporates and community groups, to get them to take a whole-school approach to understanding and building wellbeing.
This time last year they were commissioned to write The Educators' Guide to Building Whole-school Wellbeing, soon to be published by Taylor and Francis in the UK (Routledge). "Schools come to us all the time and say 'can you help us out with our wellbeing plans, we want to take it seriously, we fully get how important it is to do so for our staff, our young people, our community too, but we don't know where to start, we don't know what to do and we need some help'," Lucy says. "So that's the book we're writing."
However, what makes this such a critical resource is that the pair have reached out to all their international contacts in the resilience field to ask what works and what doesn't work. It's all practical and it's all straightforward and easy to implement. "Teachers don't have time to add more things into their already busy curriculum," Lucy says.
"Our whole mission is about getting this science out to as many people as we possibly can. Most public health in terms of mental health has been about the ambulance at the bottom of the cliff. What we're doing is equipping people with the skills, the ways of thinking and acting that prevent them from taking those costly falls – costly to individuals, to families, to society. That's why I'm really excited about the book."
They also head the annual 'Wellbeing and Education New Zealand Conference'. Formerly called 'Positive Education New Zealand (PENZ)', it will be held on 2 and 3 April 2020 at the Christchurch Town Hall. "We've got independent schools, Catholic schools and Māori immersion schools, all working alongside each other to collaboratively understand what they can do to support their staff and young peoples' wellbeing.
"This was an initiative that started with the principals; Linda Tame (Jack Tame's mum) came to me a couple of years ago and said 'we keep hearing from the principals that they want to work together in the wellbeing space, because wellbeing goes beyond the school gates and so do the mental health challenges'.
"So the school leaders get it, but to make a real difference it has to be a city-wide collaboration. We're in this incredible community where we have all these schools working together. They used to be competitive, the secondary schools of Christchurch, now they're showing the rest of New Zealand that they can work together for the better good and being in that room is just incredible when they're working alongside each other; the teachers from St Bedes working with the teachers from Christ's College and Rangi Ruru and Hagley College.
"The willingness to work together is critical because you don't fix complex problems working with one stakeholder. If you want to make transformational change, you have to work together."
Dr Lucy Hone spoke at 'TEDxChristchurch 2019: Tūrangawaewae'.
---