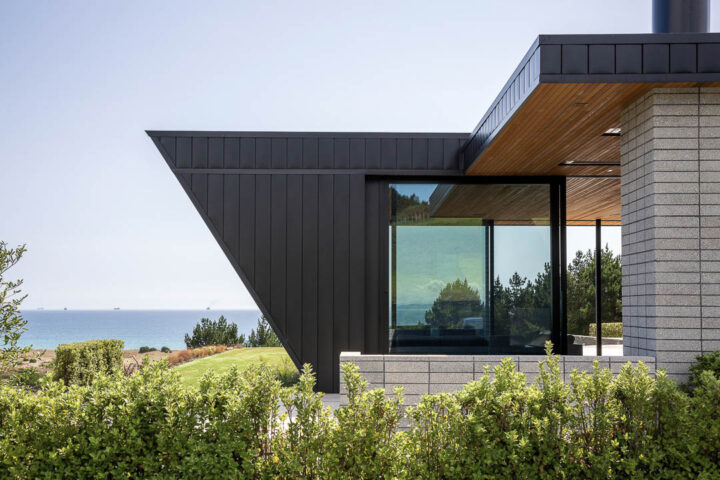 Coastal cool: Jessop Architects
---
Rising out of the farmland and up from the idyllic beach, this sophisticated holiday home overlooking Waipu Cove, north of Auckland was masterminded by Jessop Architects and incorporates the warmth and uniqueness of natural timber throughout.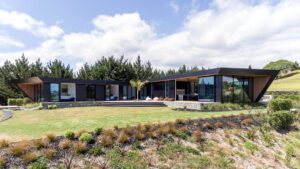 Architect Darren Jessop says the project arose after he and his team renovated the owner's Auckland villa. The resulting modern coastal holiday home on the generous elevated site fulfils the brief for a simple, low-maintenance getaway which capitalises on sweeping views and maximises indoor-outdoor entertaining areas.
The L-shaped form of the house points east out to the Hen and Chicken Islands along the bedroom wing, and north up the coast to Marsden Point and Whangarei Heads along the living wing.
Extensive 3.2m joinery can be opened or closed to cater for wind direction, without compromising on panoramic views.
The team delivered a dream holiday home in a restrained material palette of concrete, cedar and aluminium: both unpretentious and durable against the marine environment.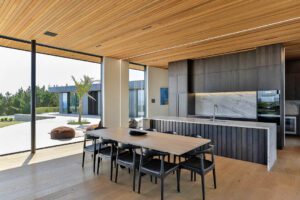 The stunning home separates living and sleeping to take advantage of the sweeping coastal views, and free-flowing outdoor entertainment spaces are protected from onshore and prevailing winds.
Multiple options for opening and closing the indoor spaces, together with a covered outdoor room, complete with kitchen and fireplace off the north side of the living wing, create possibilities for all weather conditions.
Inside, the home reflects the simplicity of the exterior, with materials enhancing the indoor-outdoor flow.
Cedar sarking on the ceilings carries through uninterrupted to the soffits, and is matched with wide-planked oak on the floors.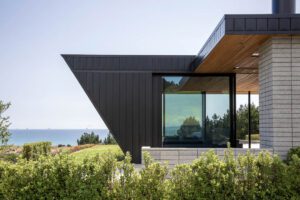 The Western Red Cedar interior sarking and exterior soffits were sourced and machined by JSC Timber.
"We were lucky enough to be involved, and for us it's wonderful to deliver high quality products and see it used like this," says JSC Timber's Johnny Dobbyn.
"The chosen species of timbers used will help ensure longevity or sustainability and look of the build with minimal maintenance."
Likewise, the ethically sourced Iroko hardwood decking is non-leeching and stable, making it ideal for withstanding the seaside environment, says Johnny.
---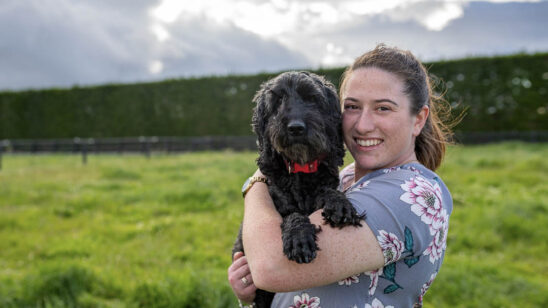 Previous Post