---
Choux pastry can be a bit scary at first, but definitely give it a go — after a little practice you'll never look back! There are so many options with choux; we've given a couple of sweet ones here, but choux is also great savoury, and deep-fried, the filling choices are endless. These choux pastries should be eaten pretty soon after assembling, but the actual shells will keep well in an airtight container for a few days; pop them back in the oven to crisp up before cooling again and filling.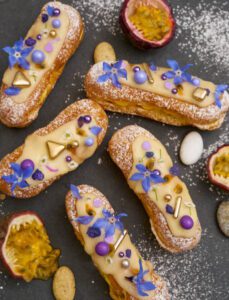 Makes 10 Éclairs
Choux Pastry 
200ml water
80g unsalted butter, cut into cubes
pinch of sugar
pinch of salt
135g plain flour, sifted
4 or 5 free-range eggs, lightly beaten
Place water, butter, sugar and salt in a medium to large pot and gently heat to melt butter. Bring to the boil, then quickly remove from heat and add flour.
Return to the heat and stir vigorously until mixture comes away from the sides of the pot and forms a ball (approximately two minutes).
Place in a large mixing bowl and cool slightly. Start to add beaten egg a little at a time, beating with a wooden spoon after each addition until the batter is smooth and glossy.
You may not have to add all the egg to get the right consistency. To check that the batter is ready for piping, use the finger test: drag your finger along the batter to make a trough. The sides of the trough should stay upright and not collapse into the dough.
Éclairs
1 quantity Choux pastry makes 10
Passionfruit mousse
pulp from 16 fresh passionfruit
2 tsp powdered gelatine
3 free-range eggs, separated
110g caster sugar
250ml cream
Icing and decoration
2 cups icing sugar, sifted
2 tbsp freeze-dried passionfruit powder
¼ cup lemon juice
edible flowers
assorted dragées
Preheat oven to 200°C.
Line two oven trays with baking paper.
Place choux pastry in a piping bag fitted with a large plain round nozzle. Holding bag at a 45-degree angle, pipe 12cm lengths onto prepared trays, leaving at least 4cm between each.
Try to keep piping pressure consistent to ensure even éclairs. Bake for 20 minutes (it is important to not open the oven before this or your pastry will collapse) until lightly golden, then reduce the heat to 120°C and bake for a further 15 minutes or until dark golden.
Remove from oven and transfer to a wire rack to cool completely before filling. For the passionfruit mousse, place a sieve over the top of a bowl and press pulp through sieve to catch the juice. Discard seeds. Place juice in a small pot and sprinkle gelatine over.
Let stand for 5 minutes to soften. Over a low heat, gently warm until gelatine is dissolved. Remove from heat and leave to cool to room temperature.
Place egg yolks and sugar in the bowl of an electric mixer and whisk until thick and pale. Gently fold in passionfruit liquid and place in the refrigerator for 30 minutes or until just starting to set.
Meanwhile, whip cream to soft peaks and set aside, then whisk egg whites to soft peaks. Gently fold cream through passionfruit mixture and then fold egg whites through. Cover and place in the refrigerator to set.
Once the éclairs have cooled, slice horizontally and fill with the mousse.
For the icing, place icing sugar and passionfruit powder in a bowl and mix in sufficient lemon juice to get a smooth icing. Drizzle over the top of each éclair and decorate with edible flowers and dragées.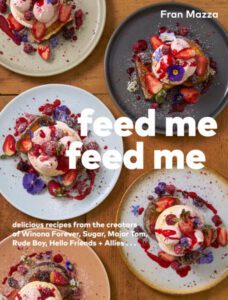 ---