---
Like a little spice in your life? Try these Chilli Pork Fried Noodles – a wholesome, healthy dish packing a seriously palatable punch!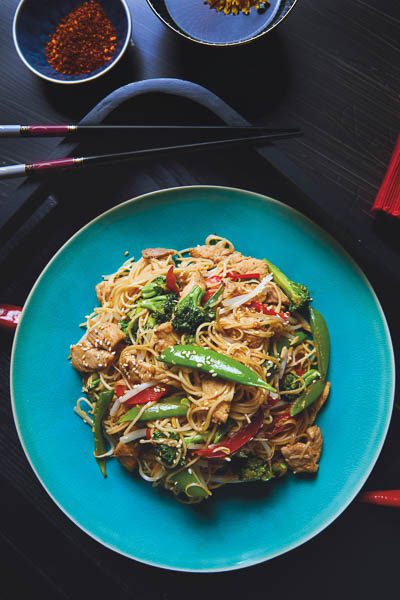 INGREDIENTS
1 large packet fine dried egg noodles
400g NZ pork fillet or steaks, finely sliced
4 tbsp light soy sauce
4 tbsp Shaoxing wine (Chinese rice wine)
1 tbsp cornflour
To fry
3 tbsp vegetable oil
1 tsp chilli flakes
3 garlic cloves, finely diced
1 knob ginger, finely diced
Veggies
1 cup small broccoli pieces
1 cup sugar snap peas
1 red pepper, finely sliced
To season
2 tbsp light soy sauce
2 tbsp kecap manis (sweet thick soy sauce)
2 tsp sesame oil
METHOD
To soften the dried noodles, submerge them in boiling water and leave for 5-10 minutes. Once cooked, cool in cold water, drain and set aside.
In a bowl, mix together the light soy sauce, the Shaoxing wine and cornflour. Coat the pork in the mixture and set aside for 20 minutes.
Heat the vegetable oil in a wok until hot and add the garlic, ginger and chilli flakes. Fry gently for about 2 minutes. Add the pork mixture and continue to fry until cooked through – about 8 minutes. Add the veggies and fry for a further 2 minutes.
Add the drained noodles and toss with the pork and veggies until well coated. Fry for about 3 minutes, then add the kecap manis, soy sauce and sesame oil.
Season with salt and serve on a plate or in a bowl.
Recipe and image supplied by NZ Pork
---