---
If you've been to any form of social event you've most likely come across the ever-popular charcuterie board. But with changing times, aka a global pandemic, cuisine connoisseurs have had to get crafty. Jarcuterie is truly taking the internet by storm and putting the cute in charcuterie.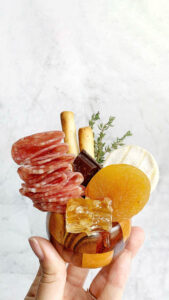 First posted by Instagrammer Suzanne Billings (@nobelgraze) in July, the single serve grazing boards were an instant hit.
This option offered a Covid-19-friendly way to entertain safely, whilst also ensuring everyone indulged equally. Not to mention, no more sharing with double dippers.
Much like a traditional charcuterie board, there is no recipe. Whether you're throwing items together from your panty or creating the perfect list weeks in advance, your guests are probably going to be distracted by the re-branding of the soirée staple in front of them.
Why stick to savoury? Themed jars are starting to emerge online with creators posting candy, fiesta and even holiday season jarcuteries. Talk about inventive.
This latest foodie trend proves that good things do come in small packages.
---