---
Covid-19 has been the unavoidable buzzword of 2020, especially so for hospitality hotshots like Cameron Gordon at Little Rive Café and store. Metropol caught up with the café owner to see what a "Covid-19 summer" will entail.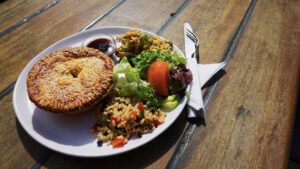 "Our summer days are generally dominated with international travellers who aren't coming this year, so it will be interesting to see whether domestic travel will offset this. We are entering an unknown chapter… and that's a bit exciting," he says.
But it seems as if the unknown chapter was a perfect place in the novel to make some adjustments to the café, something that has been on the cards for over four years.
With renovations already underway, the interior will be spruced up with new tables, seating, artwork, plants and paint.
So, why make the short drive out there? Only 35-minutes from Christchurch, the café is a perfect halfway stop on the way to Akaroa and surrounding bays – it is even short enough to make a round trip for lunch. Add a walk, visit to the beach or trek along the rail trail and you've got yourself a great day out.
The ever-increasing range of homemade keto low carb options are what's helping put the little café on the map. With popular items such as filled keto bagels and keto cheesecake selling out most days of the week.
For more information, contact the café and store at littleriverstore@xtra.co.nz.
---