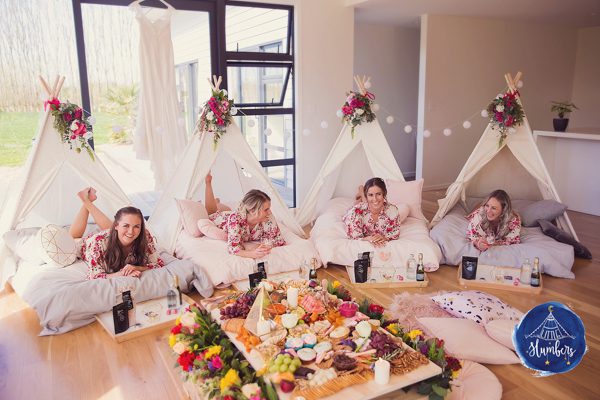 Beautiful bridal slumber parties: you can have a (grown-up) slumber party with Little Slumbers for your bridal shower
Amongst magical settings and themed tents, Little Slumbers began as a children's slumber party business.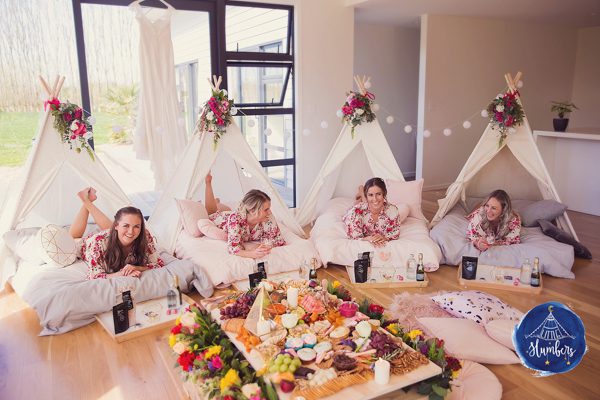 Owner Jen Collett, a teacher turned event stylist, also owns local event style and hire business The Little Carousel. After a number of requests for adult slumber parties, Jen decided to branch out one step further and came up with the idea for Bridal Slumbers. "This was a first of its kind in New Zealand when we launched it, and we are proud to be the original Bridal Slumber company," she says.
Bridal by Little Slumbers has taken Christchurch by storm since it was introduced in August last year, providing a unique way to spend the night before the wedding with your girlfriends – reminiscing, laughing and sharing special times. "It's a new take on finding a hotel then all taking off to your own rooms," says Jen.
"With Bridal by Little Slumbers, we have the whole set-up completed by the time you get back from rehearsals – picture a glass of bubbles, platters and a whole lot of laughs. The next morning, while you and your bridal party are getting ready, we pack it all up for you, so you don't have to do a thing."
In addition to the package, the business also offers grazing platters, beauty treatments and nails for the bridal party, in conjunction with their fantastic partner vendors. "The best part about Bridal by Little Slumbers is that we are not limited to just bridal parties. In fact, our hen's night and girls' nights are just as popular, which is fantastic news for just about anyone wanting to get together with friends and relive old childhood memories."
With a modern, boho-inspired theme, the bridal package provides beautiful lace teepees and larger mattresses, for extra comfort. Featuring a gorgeous blush, white and gold/rose gold colour theme – it's the perfect way to spend time with the bridal party before tying the knot.
Little Slumbers has recently launched the Glamping Bell Tent, also taking the Slumbers outside for a natural, bohemian feel. Other options include picnic set ups, movie nights with a projector and screen, gaming nights and couples nights – whether you need the night of the wedding, date night or proposal – every aspect is covered.
Whatever the occasion, from hen's nights to birthday parties, Jen can provide a fun, stress-free option and a range of gorgeous themes to choose from.
Little Slumbers
Phone: 021 065 3321
Email: info@thelittlecarousel.co.nz
Web: www.thelittlecarousel.co.nz