---
Thoughtful and flexible additions to a 1950s mid-century home in Sumner, originally designed by architect Paul Pascoe, have earned Duval O'Neill and his team at Herriot Melhuish O'Neill Architects a place on the shortlist of the New Zealand Institute of Architects' 2020 Regional Awards.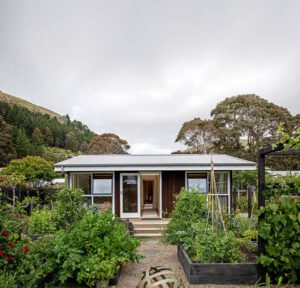 Understanding the eminence of Paul Pascoe (himself an NZIA Gold Medallist) in mid-century New Zealand architecture, the home owners knew they needed to find an exceptional architect who understood and appreciated modernist properties.
Hearing that Duval had his own mid-century home, they realised they wouldn't do better and the finished property reflects the empathy of its designer with the principles of the modernist movement.
The small three-bedroom, one-bathroom house is now transformed into a much larger four-bedroom with ensuite and a new laundry, as well as a second living room that can double as a sleeping area.
The bedroom addition frames a new sheltered internal courtyard while also acting as the end point for the gallery link and a portal to the contained garden.
Central to Duval's design concept is the rationalisation of circulation and entrance areas, retaining the long garden view as well as repeating the roofline and choosing materials which respected the essence of the original Pascoe design.
The addition features the same cedar boards, copper nails, door handles, recycled rimu flooring, window frames, eaves, interior and exterior colours, and overall proportions.
The HMOA team has ensured a clear division between adult space and the children's bedrooms and play areas.
Owens Building partnered with HMOA on this special project and Director David Owens enjoyed both the clients' and Duval's commitment to the original architecture of the home.
Owens Building places a premium on integrity, ensuring every project represents its commitment to excellence.
"Our delivery style and our relationships with clients and designers is of utmost importance to us, and often leads to great friendships forming," David says.
"Also, as enthusiasts of mid-century architecture ourselves, it was a joy to be part of the project team," David says.
Owens Building relocated to Wanaka in 2016 and has since become involved in a number of projects involving passive house principles.
David and family are soon to move into a newly constructed home which incorporates these principles and elements of mid-century design, so offering the best of both worlds.
---