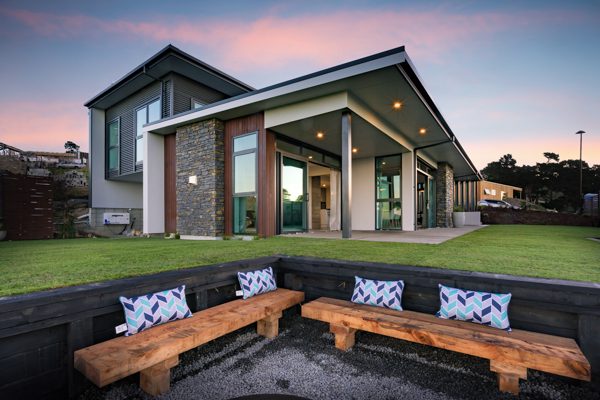 Architectural eco-showhome: Hybrid Homes wanted to show just how good a home can be without sacrificing the environment
Unafraid of tricky building sites, Hybrid Homes has built a new thermally broken, zero-energy showhome. "Power and rain water collection systems combined with building techniques that maximise efficiency allows us to run this home at zero energy cost," says Hybrid Homes Director Jamie Harrington, who has been designing and building eco homes for more than ten years.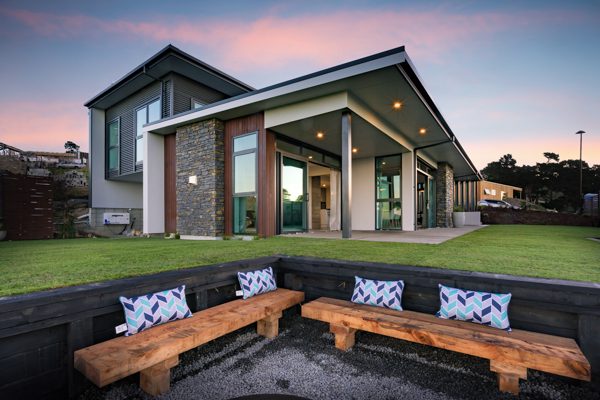 The company has also designed a series of customisable 'ekohomes' to make owning a sustainable home more affordable, but this double living, four-bedroom plus study abode on Sumner's Richmond Hill Road is a top level architectural showcase of expertise and techniques.
Smooth contemporary concrete floors are softened with a natural textured mat defining the dining area. The spacious kitchen has wooden accents, stunning hexagonal tiles and clever hidden lighting that brings everything to life. The tap is a nickel finished 'Elisa Sink Mixer' by Waterware and supplied by Edward Gibbon. "We love working with Hybrid Homes. They choose great products from our most innovative ranges," David Walker-Rogers of Edward Gibbon says.
"All of the tapware is eco-friendly – reducing volume but not pressure."
The eye-catching Waterware 'Istone Basin' in the bathroom is a black rimmed oval number, paired with 'Modern Linear' basin mixers atop a wooden vanity unit. The luxurious double shower head is a 'Nova Shower Tower'. The dark gloss-finish tiles in the bathroom play with the light from the marble look tiles that line the rest of the walls. It is a glam, modern environment.
On the exterior, the contrast of white plaster with black aluminium joinery is pleasing to the eye, as is the clever use of lines: the diagonal roofline with that of the rail for the steps and, while sitting around the firepit, the straight lines of the seating area with the dramatic square lines of that side of the house. The sunken firepit feels holiday spot-esk, the simple decision to use stones underfoot shows Hybrid Homes know how to get the vibes right. Once your eyes have lingered on the detail you can catch a view of the ocean.
Open the first Saturday of the month 11am-2pm or by appointment for a private tour of the multitude of features and options available for your new home. Visit www.hybridhomes.co.nz.
Project Partners
Edward Gibbon
Ph: 03 366 7137
Web: www.plumbingplus.co.nz