---
One of Christchurch's most iconic heritage buildings celebrated a notable achievement recently – its 107th birthday.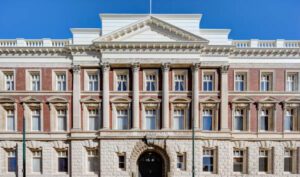 The Old Government Building in Cathedral Square has long been an epochal architectural addition to Canterbury's cityscape. Beginning life, as the name suggests, as home to several government departments when it opened in August 1913, the building has lived several lives in its 107 years.
It was designed by renowned architect Joseph Clarkson Maddison in a grand Italian Renaissance Palazzo style, which was typical for official buildings built in New Zealand in the late Victorian and early Edwardian years. The style was seen to project an impression of authority to signify the power of the state.
Maddison was known for designing many large scale and brickwork buildings in the city, including the original Ballantynes and Carlton buildings, as well as several churches and large industrial factories in wider Canterbury.
The foundation stone of the Old Government Building was laid by then-Prime Minister Sir Joseph G Ward in 1911, who told the gathered crowds they should be proud to have such a building of character "suitable to the importance of the city".
The building housed various government departments until the 1980s when occupants moved to other newer offices, and the beautiful building fell into serious disrepair.
Public outcry saved it from demolition, and Christchurch City Council purchased the building from the central government for $735,000 in 1991.
It was then on-sold to high profile Auckland-based property developers, Symphony Group, for a profit of over $6 million, and on the condition it was earthquake strengthened.
That condition – completed as part of the building's conversion into luxury hotel suites under the Heritage Christchurch brand – likely saved the building.
The Heritage Christchurch opened in 1996, and the strengthening works made it one of the only heritage buildings in the CBD still standing after the Canterbury earthquakes.
The building, with much of its historic character preserved, now hosts beautifully appointed self-contained one- and two-bedroom suites, plus, a fully equipped health club with lap pool, sauna and jacuzzi on site. It's also home to the popular OGB bar, and a barber shop.
Heritage Hotels has secured numerous awards for its stewardship of the building, including Canterbury Heritage Awards in 2010, 2012, 2014 and again in 2018 in the tourism category, as well as several World Luxury Hotel Awards over the last decade.
---