---
When it comes to GrassPro, the grass is in fact always greener. The artificial grass specialists have Tim Gerard at the forefront of the business ensuring every lawn is far from lacklustre.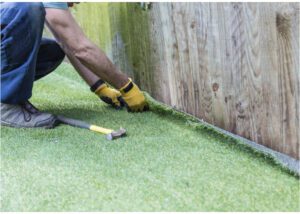 "We specialise in the smaller jobs the big firms don't want typically," says Tim.
"Doing grass replacement in apartment, town houses, over 60s' units and other smaller areas of grass that are causing a problem for the homeowners with our quality artificial grass."
So, what does that mean for you? Lush green lawn for 365 days of the year with no allergies, mowing, trimming, watering, weeding, fertilizing, and spraying pesticides.
The artificial grass is not just for replacing damaged or lifeless lawns. It goes great under trampolines or playground equipment to avoid those awkward mowing manoeuvres going on in the backyard.
Or, if you're a golfing fanatic who just simply can't get enough of your local green, what's more local than your backyard? Get a putting green installed through GrassPro.
Ready to see what the other side feels like? Book a quote today via the website or phone 0508 422 532.
---