---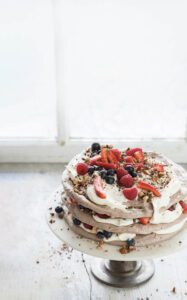 COOK 1.5 | SERVES 10
Meringue nut layer
75g (½ cup) roasted almonds
4 egg whites
250g (1½ cups) icing sugar
1 tbsp white vinegar
30g (¼ cup) unsweetened
Dutch cocoa powder
Filling
600ml (2½ scant cups) thickened
(whipping) cream
75g (½ cup) roasted almonds, chopped
100g dark chocolate, finely chopped
135g (1 cup) raspberries
165g (1 cup) blueberries
165g (1 cup) strawberries, quartered
Method
Preheat the oven to 150°C. Line two large baking trays. Trace three circles approximately 20cm in diameter on the baking paper.
To make the meringue nut layer, place the roasted almonds in a food processor and pulse until they are ground, and resemble breadcrumbs. Set aside. Using an electric mixer, whisk the egg whites until soft peaks form, then slowly add the icing sugar one tablespoon at a time, while continuing to whisk. Whisk for 10 minutes or until stiff and glossy. Using a spatula, fold in the vinegar, cocoa powder and the ground almonds. Use the spatula to spread the meringue inside the outlines you've traced, smoothing out to the edges. Bake for 45 minutes or until the discs are crisp to the touch. Place on a wire rack to cool completely.
To make the filling, whip the cream in a bowl just until soft peaks form and set aside. In a separate bowl combine the almonds and the chocolate. In a third bowl combine the berries.
To assemble the torte, place the first disc of meringue on a serving platter and top with one-third of the cream, one-third of the almond/chocolate mixture and one-third of the berries. Repeat with the remaining discs.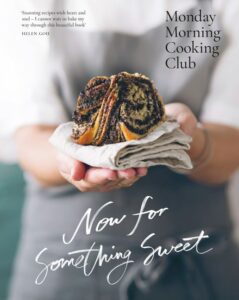 Recipe extracted from Now for Something Sweet by the Monday Morning Cooking Club. HarperCollins. RRP $55
---