---
Detail is king when dressed for best on race day. A dashing outfit wins – when it fits the wearer superbly..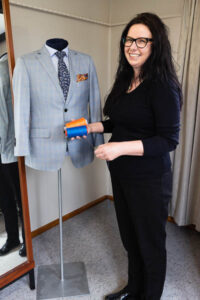 No one in Christchurch does what Megan Wolfery does. She holds the title of the only true men's tailoress in town, with the expertise of 35 years, befitting of the finest Italian suit.
"The better the fit, the finer the look," The Gentleman's Tailoress advises. Suits, shirts and trouser alterations are her niche.
She says it's worth investing in fine-fitting outfits in quality fabrics, which can often be handed down from father to son. And beautiful design and fabric deserves bespoke tailoring, to fit comfortably to the body.
Megan can let out trousers and jackets a size, take in shoulders and waists and take up jacket lengths and cuffs, to sit for perfection and comfort.
"Taking in the back-leg for tailored fit removes that saggy back seat area."
Megan is set up for the social season marathon, and will enjoy every stitch. Having innate passion for the craft, she also tutors tailoring at Papanui High School adult classes.
Getting measured up in The Gentleman's Tailoress home studio in Mariehau, amongst the well-loved tools of the trade, is where the magic and great conversation happens.
Allow at least two weeks before Cup Day or the big event.
Email wolfrey@xtra.co.nz or phone 021 024 20841.
---