---
From a musician fronting one of the most successful New Zealand bands of the past two decades to a Kiwi fashion icon, Boh Runga is a creative force to be reckoned with. We catch up with Boh about her latest jewellery collection and getting an international nod from the Duchess of Sussex.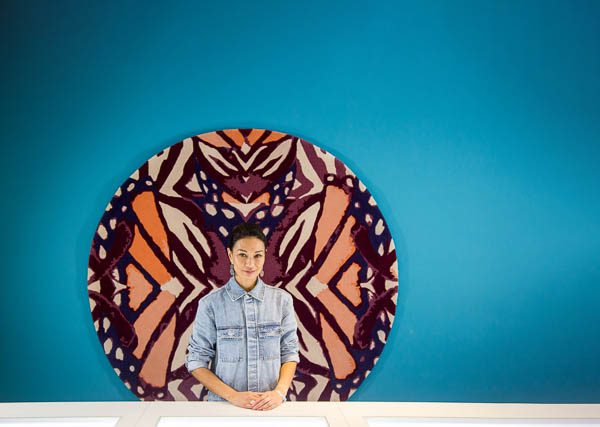 After carving a pop career fronting your chart-topping, multi award-winning band stellar*, you moved into jewellery design. Has that creative process always been something you've been attracted to?
I love jewellery and accessories so when the opportunity came up, I definitely jumped at it. Designing jewellery is different from songwriting, obviously, but I approach each collection as if I'm writing a song or telling a story. I like to try and bring meaning to each design, something for the wearer to connect with as jewellery can be very personal.
---
The Duchess of Sussex has been spotted wearing your 9CT Gold Discologo Studs gifted to her from the PM, Jacinda Ardern who is wearing your Egglet pendant in the upcoming British Vogue, which Meghan Markle herself guest-edited. How does it feel to get such a high-level international nod for your work?
Our site www.bohrunga.com went mad!… all these people from all over the world were so curious to see what the Duchess had been given. We sold out in a couple of days in each metal choice. Every time she wears them we get another flurry online. The earrings have been featured in Harper's Bazaar Australia, Harper's Bazaar US and I did an interview for Japan Vogue which was very cool. I see the brand as a gifting brand first and foremost and having them given as a gift by our very own PM was very humbling. The Egglet represents new beginnings and since the focus of this particular Vogue issue is about positive change, I love it!
---
Do you have any favourite pieces you've designed or is that like picking a favourite child?
I love all my children equally and without bias! The pieces I wear the most often, pretty much all the time, are the Karearea wing bracelet swapped out with the Miromiro feather bracelet. Earrings-wise I love the Huia earrings, they are large statement pieces that are my take on the Huia feather and they are a bit of departure from what I've done before. I like to wear the Gentlemen's Club signet ring that has the motto Kind, Brave, True and the accompanying story with that collection is what I believe are the qualities of a good man.
---
Where do you get your inspiration from?
From the natural world, from living here with our amazing wildlife and environment. I also get inspiration from different cultural beliefs and ideas. And the love people hold for each other and how something that is given with love is special for both parties. I like the jewellery to carry positive messages.
---
What do you love about what you get to do for a job?
There's quite a bit of freedom with what I do. I like the creative aspect of it and I like that I am not a slave to the regular, like travelling in peak hour traffic every day. But with a small business there's a lot of responsibility (we're a team of four now) so it isn't all hearts and flowers. I'm lucky to have such a great business partner and such a great team around me.
---
How much do you still get to dabble in your first love – music?
Not enough in the last few years since taking over the jewellery brand but we have a pretty great studio at home as my partner is a musician and has good ears and technical abilities so he's offered to record some tunes that have been rattling around for a bit. It's also the stellar* Mix album's 20th anniversary this year so I'll definitely get to do some playing soon with the guys which will be very fun!
---
How does a day in the life of Boh Runga look these days?
Monday is the only locked in day for me to be in the Boh Runga Bohtique in Ponsonby, Auckland, as most of the time I 'work' and 'dream' at home. That day is all about deadlines and scheduling new releases and additions, marketing and upcoming events, working out budgets for various things, brainstorming styling for photoshoots or planning trips to retailers etc with the team.
---
You grew up down our way with your younger sisters Pearl and Bic, what do you love about Christchurch?
Christchurch people are so resilient. They have been through some terrible times of late, devastating natural disaster and the most appalling act of hate but they've come together in a way that has made the whole country and even the world admire their heart and community spirit. It's beautiful to see and I am proud of my hometown.
Boh Runga Jewellery's new collection 'Shapes' will be released September and is available in Christchurch from Silvermoon or visit www.bohrunga.com to find stockists throughout New Zealand. Head to Instagram and regram the Metropol cover, follow and tag @bohrungajewellery and @metropolmag to go in the draw to win a necklace from the new collection!
---