---
Kiwis have a serious love affair with Honda's hot hatch – the Civic Type R. Since the first Civic Type R to be sold new in New Zealand was released in late 2017, more than 200 have been sold, making it one of the bestsellers in the class and proving its sales performance is as strong as its on track performance.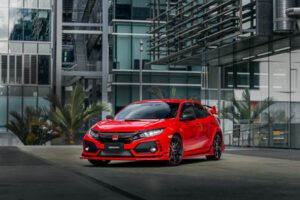 To celebrate the Type R's double century of sales success, Honda New Zealand is offering a special, New Zealand-exclusive Type R endowed with Mugen parts.
Mugen – which means 'Without Limits' – is the organisation responsible for manufacturing Honda's OEM parts such as body kits and sports exhausts.
It has become an international motorsport success, with highlights including powering Formula 1 victories along with numerous other two and four wheel championships.
"The 5th Generation Type R, although solely offered with a manual transmission, has been a sales success, thanks to its perfect balance of Honda's sporty, yet practical DNA," Honda New Zealand Marketing and Product Manager Matt Woodburn says.
Mugen equipped Type Rs start from $64,990 – including the front underspoiler, side underspoilers, rear underspoiler and carbon fibre/FRP tailgate spoiler with Mugen emblem.
This pricing is inclusive of all related costs to sourcing, painting & fitting the parts, making this one of the most affordable Mugen packages globally.
---