---
They moved on 2 September to their new prime-spot location on Williams Street, Kaiapoi, and with a spectacular 16 metre display window, owner Suzie Lambert can't wait to get creative, for when it comes to Kaiapoi Florist & Gifts, Suzie says it's all about the senses.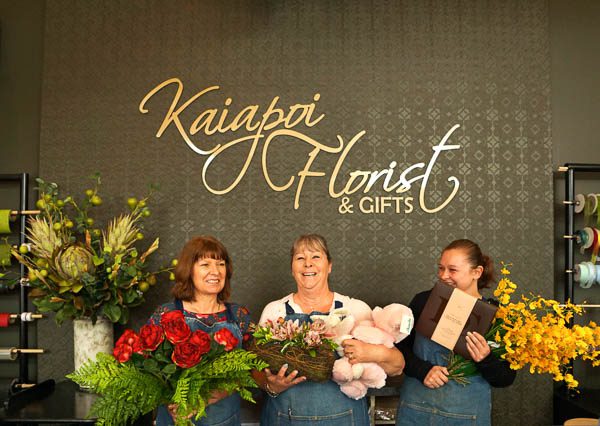 Sight – The impact of colour in this large, airy space of massed flowers, bouquets, potted colour, pots and vases, and exquisite French Country silk flowers (the biggest selection in Christchurch, which can be arranged in customers' own vases) is visually stunning.
Sound – The tiered water fountain with its gentle trickle of water makes for a soothing background accompaniment while wandering through this delightful flowery bowery.
Smell – Bask in a myriad of flower scents, then nuzzle your nose amongst the heavenly scented candles and diffusers from Mor (Marshmallow, Peony, Pomegranate, Belladonna, Snow Gardenia and Lychee Flower), the food-fragranced Waxglo collection and new room-scenting ranges from Australia and America. What an olfactory oasis!
Taste – If it's something sweet you seek to win that special person's favour, then a box of award-winning Devonport Chocolates, such as the scrumptious Luxurious Chocolate Assortment, will have them surrendering in no time.
Touch – With an extensive giftware range that's ever-changing, take time to inspect frames, mirrors, ornaments and household ware, unique cards-to-cherish and so much more.
"Our flowers are always different," Suzie says, "That's why our customers love coming here."
Find Kaiapoi Florist & Gifts at 178E River View Terraces, Williams Street, Kaiapoi. Phone 03 327 6535 or visit www.kaiapoiflorist.co.nz. All products are available online 24/7.
---