---
Visit the beautiful alpine village of Hanmer Springs, park your car and take a stroll up Conical Hill Road to Tait Gallery. Take time to browse and chat to the gallery owner, William Taylor – his passion for the arts is infectious and his gallery is full of colour and vitality. You may even meet some of the artists in person during your stay!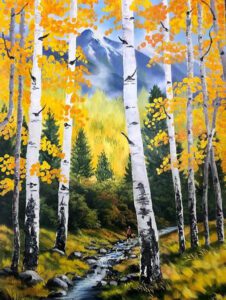 William enthusiastically describes Hanmer Springs as, "the cultural centre of the South Island".
The village might be small, but it boasts two very fine art galleries, one of them being Tait Gallery, which opened three years ago and quickly became known as a sought-after destination. "We represent over 50 different artists and display a wide range of mediums at affordable prices," William says.
He loves to promote established and emerging artists in the space and it's not just for the adults; there's also a children's section for those between 8-15 years old.
The gallery also has a varied selection of exquisite glassware, sculptures, pottery, wood turning, ceramics and jewellery.
This gorgeous place of passion is just another addition to the must-sees of Hanmer Springs which make it a hotspot of the South Island.
Tait Gallery is located at 34 Conical Hill Road and open Thursday to Tuesday 10am to 4pm. For more information, phone 027 432 5914 or email info@taitgallery.co.nz.
---