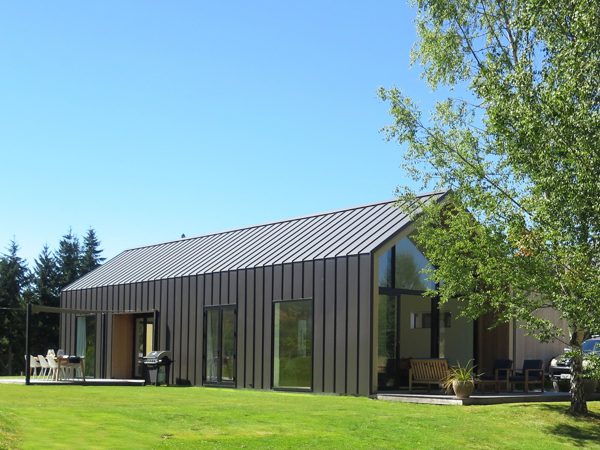 A family friendly space: Fleck Construction and Jeremy Kingan Architects team up to build an excellent family home
"I love houses with rhythm," says Jeremy Kingan, an Architect based in Central Otago. Clearly the judges of the NZIA Southern Architecture Awards agreed, selecting Jeremy's 'Fleck' house as one of the housing category winners for 2018.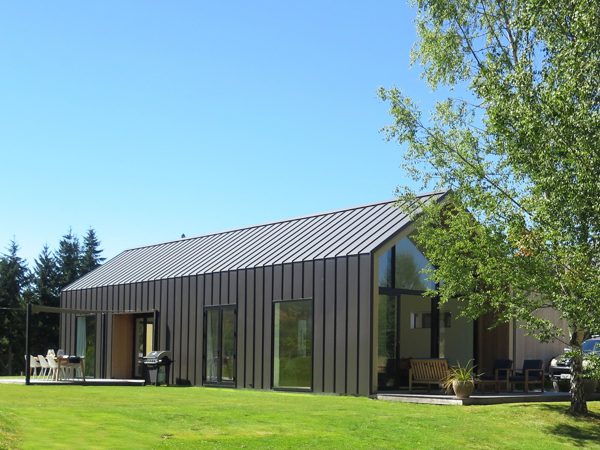 The rhythmic design concept of patterned repetition is evident in the gabled barn section of the house where the roof is clad in 'tray' style steel of flat pan and rib, which is then folded down the walls. Rhythmic progression is provided by the second form and material: a box-shaped wing sided in cedar shiplap. Jeremy's aesthetic is to stay true to the material he is using and find something intriguing about it. "If you choose to use plywood, don't pretend it is board and batten; be sure to celebrate its sheet form."
Rhythm is apparent in the outlook of this home, as well as its design, positioned as it is for maximum appreciation of the four seasons as they cycle across the elevations of Coronet Peak. This stunning northern outlook can be appreciated from the kitchen and family area, as well as the dining and living areas, and the main bedroom.
The interior features polished concrete, which Jeremy has been incorporating into designs for 40 years "long before it became fashionable" and its counterpoint is planking in oak.
Jeremy says the concept for the house came together really harmoniously: the clients' architect family member introduced the concept; the clients brought thoughts of their own; Jeremy added his ideas then finessed the proportions and pulled it together.
Richard Fleck of Fleck Construction built the house for his young family. Growing up just down the road from the site, the desire to raise his family in a rural setting made the choice of location obvious.
The family found working with Jeremy straightforward and collaborative, Richard says. "We love the proportions Jeremy produced for the design. Proportions are key to a great home and they are perfect here."
Not only does the house feature stunning good looks, the space and layout make it easy for a young family to live in.
There are four in the Fleck Construction team, working all around the Southern Lakes area. It's a flexible company working on larger or smaller scale homes, and on major or minor renovations. Richard says projects come through word of mouth and, while larger architectural homes are now making up a greater share of the business, smaller developments and proposals are always welcome.
The next build is an Arrowtown house incorporating environmentally sustainable features. Richard says the 'greening' and increased energy efficiency of homes is a positive step given "the annual struggle with elements, which is the price Mother Nature extracts for living within such outstanding natural beauty".
Project Partners
Fleck Construction
Ph: 021 260 4481
Web: fleckconstruction.co.nz
Jeremy Kingan Architects
Ph: 021 178 4304
Web: jeremykinganarchitect.co.nz