---
When beloved television presenter Erin Simpson met former Bachelor contestant Zac Franich, it was love at first sight. So not surprisingly, their wedding day on 25 October was a fairytale come true. We catch up with Erin about the big day.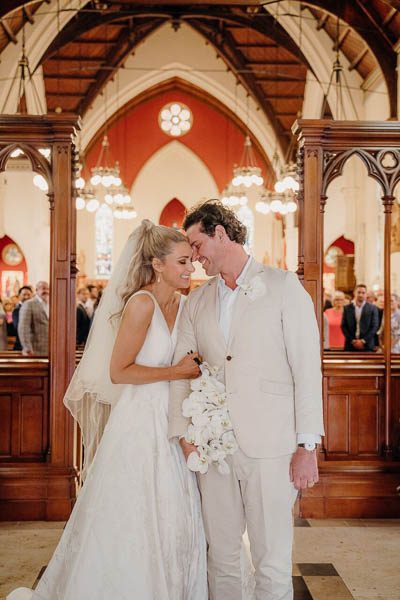 You must be one of the busiest people in New Zealand right now! Can you tell us about your new series, Adventure All Stars, that starts screening next year?
Adventure All Stars is exactly that, an Adventure with a bunch of All Stars! Each episode (six in total) we take a group of amazing people away who have been working tirelessly over the past 12 months raising over $10,000 each for the chosen charity. We take them away on holiday, treat them like VIPs, show them around the country and cram in as many New Zealand activities as we can! We are very excited for you to see it, it's going to be such a fun show to watch with all your friends and family.
---
You were filming right up to the night before your wedding, something I'm sure no bride could fathom! How did the wedding go and was it everything you'd ever dreamed of?
Yeah it wasn't by choice haha. We had planned the wedding date before the role for Adventure All Stars came up. I nearly didn't get the role because I needed the wedding day off so I was very grateful in the end to be able to do both. The week of your wedding doesn't have to be a pampering, relaxed week, it is what you make it but I'm very lucky I had amazing friends and family who could bring my wedding dresses, shoes and all the things I needed and meet them there on the day!
---
The Auckland Convention Centre fire nearly derailed everything, with your wedding at the next door Cathedral of St Patrick and St Joseph. How stressful was that period, not knowing how everything was going to pan out?
I wouldn't say it was stressful; I think the word 'stress' is a very overrated word. The SkyCity Convention Centre was on fire yes! The church was blocked off yes and very smoky yes! I was in the rural Rotorua bush with no cellphone reception, but at the end of the day, both these places are big enough to have back up plans and when things go wrong it's just a matter of waiting to be told what to do. It wasn't stressful, it was emotional! 'New emotions' is what I like to experience rather than stress.
---
Can you tell us about the amazing story behind how you met?
Haha yeah we met on the red carpet of the NZVMAs a few years back. I was reporting for TVNZ on a show called Red Carpet NZ and Zac was a guest on the carpet. He got to me at the end of the line and it was like we both just stood there and had conversations with ourselves. I was thinking, 'OMG he looks so good, OMG he's single now! OMG, do I look good? OMG say something Erin, you're working!' But it was like he was having those conversations with himself at the exact same time! What proceeded to happen was one of my worst celebrity interviews to date! I can't even remember what I said, oh no wait, I can, it's all caught on camera! As soon as Zac passed, my camera man (who I work with all the time) put down his camera and said 'what the heck was that?' I couldn't do anything but just stand there and giggle! Obviously the interview was too crap to ever make the big screen but he sent the footage to me the next day and so I posted it on my Instagram page (@erinsimpson13) for everyone to see the magical disaster that was the time we met haha.
---
You went from What Now? and Sticky TV to fronting The Erin Simpson Show. What attracted you to kids' shows and performing?
I guess children and teenagers have an energy and a beautiful outlook on life that a lot of adults lose as they get older. I myself have not lost any of that so I find I can be myself around them more and I wouldn't call it performing, I'm not putting on an act, I'm just there as me. Then again, it's not actually even about me; I'm simply there to move traffic and ask the questions on behalf of everyone watching at home. I'm there to make others shine, not perform.
---
You made your home down here in Christchurch for much of your career. What do you love the most about our little southern spot?
Christchurch is like the London of New Zealand. From Christchurch you can get in your car and drive anywhere you like and within a few hours be somewhere amazing that the rest of the world has to travel for days to simply come and see.
---
What's next for you after Adventure All Stars?
I guess that's the beauty of this industry, you just don't know. I would hope we get a second season and I would hope more opportunities come up so I can showcase New Zealand and the beautiful people who live here. Otherwise, I will continue enjoying every day with my amazing new husband who I fell in love the very day I met him.
---
What's on your bucket list?
Everything! I was telling Zac the other day, I never feel content. He went on to say 'No, you're like a meerkat; always up and looking for that next thing to do.' So hopefully I never lose the will to see and do everything I can.
---