---
We're beginning to make the transition into long sleeves and cosy jackets and coats and that can only mean one thing… winter is fast approaching. Make Made in the Shade your one-stop shop to stock up on winterwear.
With lots of new stock and a focus on New Zealand made items, you can look fabulous and feel fabulous for supporting local labels. Enter the store and be inspired, with brands such as Anne Mardell, Optimum and Bittermoon on offer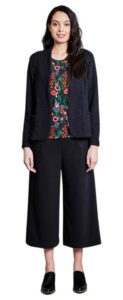 Uma Culottes, Edna Tee & Cato Jacket: It was hard to single out just one item because everything in this outfit is fantastic. From office to outwear – this combination is perfect for your next occasion.

Karla Dress: This beautiful printed dress, made with fabrics from France, is exclusive to Anne Mardell. Not to mention, the extremely flattering shape that accentuates the body in all of the right places.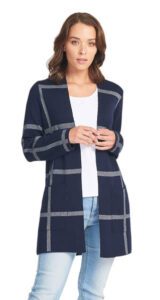 Grid Pattern Cardigan: This cardigan feels as soft as it looks. This light and comfortable cardigan is a must have this chilly season.
---