---
Are you walking tall this season or choosing to be more down to earth? From long-boots to street sneakers, there's a shoe style this winter to suit afficionados of all looks and heel heights.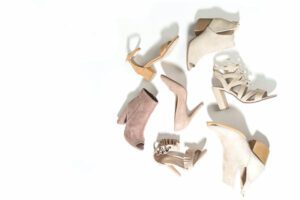 Boots this year are more on the knee – or just below – as opposed to over-the-knee as they were in 2019.
They're waiting to be paired with coats that just brush their tops for a seamless winter look.
Black remains popular, along with natural browns, just remember to keep them clean and conditioned to avoid staining and water-damage.
Heel-wise, take your pick from almost stiletto-type elegance to more practical flats.
Loafers also remain a wardrobe staple, but with a new twist for those looking for something with a bit of a difference.
Keep an eye out for higher heels than you might usually consider in this style, especially the solid block heel, and sling-backs for an added touch of elegance.
Fresh prints and lots of buckle or chain detailing also add a point of difference.
And, as they were last year, platforms are back. Go up in the world with formal footwear such as stylish wedges on platform soles or sneakers with a real sense of elevation.
So, what else will the warmer months hold as we come out of winter?
If Europe's anything to go by, strappy styles – but with thin straps this season – will be on our shelves as we come into spring.
In particular, elegant sandals with square toes look set to deviate away from the heavier, almond-toed versions of the last few years.
In something of a surprise move, espadrilles – those mainstays of the '80s – are also making a return, this time with platforms behind the traditional braided sides and with embellished or jewelled straps, rather than the simple slip-ons of yesteryear.
So put your best foot forward in 2020/21!
---