---
Autumn is fast running into winter with its cool, short days and long nights. You are looking at your outdoor area and thinking "It's goodbye to sitting out here for a few months. Inside is where I am going to be." But that does not have to be the case. A solution to extending your outdoor living experience throughout the winter lies in adding a louvre roof to your home.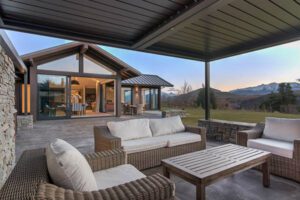 You might think that now would not be a good time to be installing a louvre roof. Not true.
It's actually perfect, because even in the cold of winter Louvre Solutions can create an expansive outdoor space that can be enjoyed all year round. But as they say: "That's not all."
These roof systems are fully customisable with heating, lighting and ventilation as well as integrated pull-down side screens.
They also come standard with a rain sensor, which allows the roof to close automatically in the rain. Add that package together and you have the ideal environment for winter entertaining, relaxing or simply enjoying not being cooped up indoors.
For more than 17 years Craig Rogers, owner of Louvre Solutions, has been advising customers all over the country about the right roof for their environment.
He knows what works and what doesn't, both from a practical and an aesthetic perspective.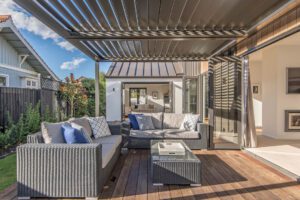 It might be a roof over a patio, a spa pool or a deck or even a freestanding feature anywhere on a property. "There are often fine, crisp days in winter when it would be great to be outside," says Craig, "The protection of a louvre roof can make doing that so much more appealing."
The company's louvre systems are manufactured locally in Canterbury at its Rangiora base.
Only high-quality materials are used, from the New Zealand extruded aluminium louvres and fastenings to the motors and controls imported from Europe.
The metal system is stronger and more durable than traditional patio covers and conforms to nearly all wind and snow load requirements. All the company's louvre roofs come with a 10-year warranty.
What about the expense of such a solid system? "When we first started out," says Craig, "these premium products were indeed expensive. Not anymore. Now thanks to technological advancements, we can be accessible to markets right across the spectrum, from entry-level properties to high-end architecturally-designed homes."
Visit the website below for more information or phone 027 535 6286. Apart from Craig, the company has agents in the North Island as well as in Nelson, mid-Canterbury, Wanaka and Queenstown.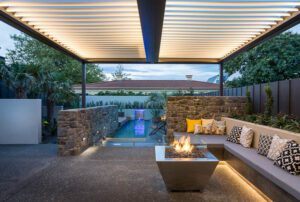 ---