---
Making a comedy series about death is a bold move, but if anyone could pull it off it is Canterbury sisters Eve and Grace Palmer. The talented sisters talk to Metropol about having fun – and making television – at a funeral home.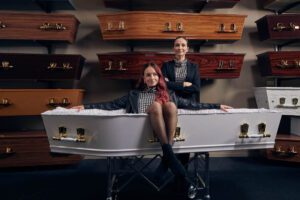 Inheriting a funeral home may not sound like a conventional comedy plot. But that is the premise of Good Grief, the hilarious TVNZ series co-written, produced by and starring the sisters.
Daughters of TV producers Janine Morrell-Gunn and Tony Palmer, Eve, 31 and Grace, 25, are Kiwi entertainment royalty. Grace is known for her roles on Shortland Street and The Dead Lands while Eve has made a name for herself as a presenter and reporter on TV and radio, most recently on The Adam and Eve Show.
Good Grief follows Ellie (Eve) and Gwen (Grace) Goode, who have just inherited their koro's funeral home. Where sensible Ellie is determined to uphold his legacy, pink-haired Gwen is set on moving to Bali to pursue a DJing career.
"I know it might seem like we have a morbid fascination with death and dead people," says Grace. "But it's more about talking about something that's taboo. Despite [death] being inevitable for everyone, it's a discussion nobody wants to have.
"I find it interesting more people don't want to discuss death even though it's coming for all of us."
Eve says the "awkward and cringe" humour of Good Grief is not in death or grieving, but the perspective those events bring.
"The comedy comes from how we as humans get caught up in the silly little things," she says. "The things we become upset about or create drama over, in the context of life and death, seem trivial, but we all do it.
"We all go to a funeral and think, 'I need to change the way I live my life,' then go back to worrying about who needs to empty the dishwasher."
She says the sisters came up with the idea a long time ago, after a death in the family brought its own share of laughable moments amid grief. But work started seriously on the project in 2018 when they joined forces with fellow Cantabrian and screenwriter Nick Schaedel, and the formidable Kerry Warkia and Kiel McNaughton from production company, Brown Sugar Apple Grunt. The series received NZ on Air funding in 2019.
"We were really lucky to have it picked up on the first go," says Grace. "We worked on it for a long time before it was ready to be considered. There was a lot of mahi."
And once it was greenlit, there was strong interest from the industry.
"I couldn't believe the people who were auditioning for the show and who we got on board," says Eve.
"I was really blown away by the team we managed to get – which is all thanks to Kerry and Kiel."
The cast includes funnyman Josh Thompson (The New Legends Of Monkey), Sophie Hambleton (Westside), and Vinnie Bennett (The Bad Seed).
Eve says the sisters also worked with a lovely long-time funeral director, Gary, to ensure they were hitting the mark.
"We thought, 'Are we pushing the boat out too far, is it too unrealistic?', and then Gary shared some stories which made us think, 'We haven't gone far enough!' Truth is stranger than fiction sometimes."
Despite their vast experience on set, taking a step behind the camera was a learning curve.
"One thing I learnt very quickly was how being an actor, you're just the cherry on top," says Grace. "You're a very small cog in a very big machine and I think we have a newfound appreciation for all the work that goes on behind the scenes."
Filming can be the quickest part, she says. There was the writing and pre-production and then months of post-production.
However, it was early exposure – growing up at television studios – that set both sisters on their career paths.
"It was sort of inevitable," says Grace. "I can't remember ever wanting to do anything else. We grew up watching What Now in the studio and just loved it. I loved the energy and the people and everyone coming together to make two hours of TV."
Off screen, the sisters have had big years in their personal lives, too.
Auckland-based Grace, married fellow actor, Rawiri Jobe (Step Dave, Shortland Street), and Christchurch-based Eve is expecting her first child with beau (and former co-star), Adam Percival. Eve is chronicling her pregnancy journey on her podcast, The Hapu Club.
---