---
Elyse Campbell is not your typical Real Estate Agent! Elyse understands that in essence – it's all about, you.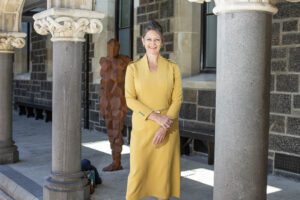 "I'm here to provide you a service and get you top dollar. End of story. The fact that we have fun along the way – that I know my selling process inside out, which then takes the stress out of it for you – creates a dynamic where everyone wins," she says.
Elyse loves people: "I just think, when good people get together around the kitchen table – amazing things happen."
Sharing her skills and facilitating the process enables people to fulfil their next project while creating the dream opportunity for someone else!
"It's very satisfying helping people with a very meaningful transaction."
She is an avid yogi, loves hand stitching and knitting, is a lover of fashion and design, a self-confessed excellent scone maker.
And will even attempt the cha-cha. Having been brought up in Queenstown and lived all around New Zealand, packing and shifting is second nature.
When you need to discuss your property sale or purchase with someone who will work hard for you, give Elyse a call for a personal and confidential conversation – it will be one of your smartest moves in 2021.
Email her at
elyse@oneagencyres.co.nz or check out the One Agency website.
---