---
If you're looking for a sign to treat yourself to a luxurious weekend or holiday, consider it this. While the world may not currently be your oyster, there are a plethora of enticing escapes throughout the South Island just waiting to be explored and enjoyed.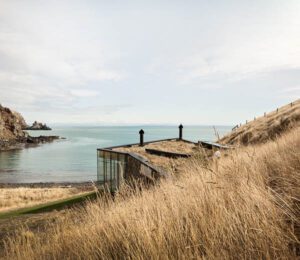 From Nelson to Bluff, every season brings with it a different showcase from each region. Currently, it is Jack Frost's time to shine and for many eager travellers the likes of hot pools, saunas and nights by a flickering fire jump to the top of desirable things to do.
But just because beyond trans-Tasman travel is still grounded, that does not mean that you cannot dream of life abroad. We are already halfway through 2021, meaning that 2022 will be on your doorstep before you know it.
So, if you are starting to see symptoms of a travel bug… check in with your local travel agent.
Metropol has the some of the latest in all things luxury below.
Near and far, from travelling to your destination in style to indulging in some extravagant amenities, you are not going to want to flick past this feature.
You might even spot a getaway treat especially for our readers.
Call of the wild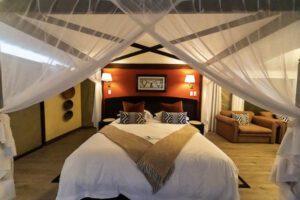 The opening of the trans-Tasman bubble has given optimistic Kiwis a case of the travel bug.
And all good travel planning must start somewhere; enter Neville Jones of Experiential Travel.
"We curate amazing travel experiences in some of the most beautiful and interesting places in the world," he says.
Experience the stunning landscapes of Africa through safaris, anthropology tours, gorilla trekking, diving, hiking and mountain climbing.
And reside in unique luxury accommodation with front row seats to the everchanging colours and wildlife of the plains.
It is never too early to plan an intrepid escape to this continent. Visit the website to find a catalogue of planned itineraries with something for everybody. Go on… answer the call!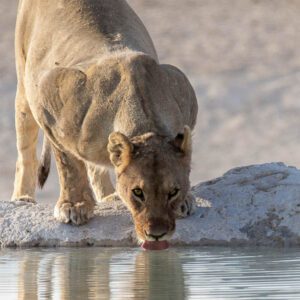 www.experiential.travel
+61 418 325 812
neville@experiential.travel
Chauffeuring done differently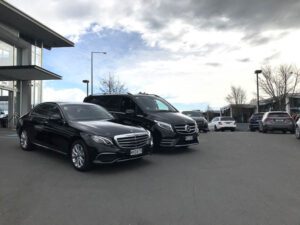 Taking the worry out of driving is a real luxury, and that's where Prime Travel and its offshoot Prime Chauffeurs take prime position.
This Ōtautahi-based company is known as one of the finest chauffeur companies in Australasia.
It started in 2018 with just a few clients, three luxury vehicles and the determination to provide the finest premium ground transport solution for private and corporate clients in Canterbury.
Now it is the preferred premium transport provider for numerous national and international personal and corporate clients, embassies, airlines, hotels and tour operators.
You can sit back and relax in comfort and style, safe in the hands of professional, handpicked drivers at the wheels of premium vehicles.
www.primetravel.co.nz
(03) 925 9219

A winter wonderland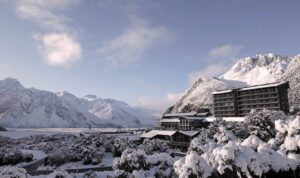 Welcome to winter in the alps at the Hermitage. The adventures that Aoraki/Mount Cook National Park offer are truly spectacular in the winter months, with snow-capped mountains and star-filled skies.
For those wanting something more relaxing, the lower temperatures are a perfect excuse to rug up and keep warm next to the fire with a hot drink or glass of wine.
Enjoy delicious cuisine and extensive wine lists while surrounded by New Zealand's highest peaks. There's no other view quite
like it.
Discover Hermitage Aoraki/Mount Cook this winter. Dinner, Bed and Breakfast packages now available.
www.hermitage.co.nz
0800 68 68 00
Luxury on high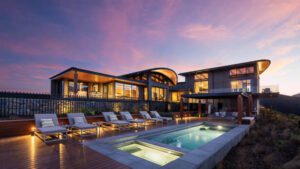 Nothing says luxury better than Falcon Brae Villa, perched high above Tasman's Motueka River.
The exclusive-use villa caters for up to 10 guests, with three individual suites and a bunk bedroom.
With spectacular 360-degree views, the villa is set in 14 hectares of private forest and spectacular native bush walks.
The architectural residence features a private chef, a helipad, large central lounge area, sunken bar, grand piano, media theatre, commercial kitchen, three dining areas and a stunning collection of art. Guests can relax in the "Games Den" or soak in the outdoor heated spa.
Special domestic prices are available, so book the chopper!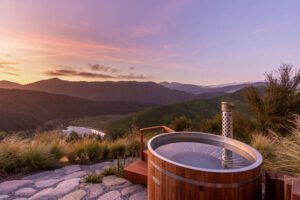 www.falconbraevilla.co.nz
info@falconbraevilla.co.nz
(03) 522 4479
Enjoy a yoga luxe retreat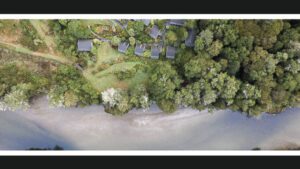 Relaxed luxury accommodation just three hours from Christchurch, the Maruia River Retreat is set in a 200-hectare nature estate.
Home to seven beautifully appointed private villas, a main lodge with restaurant, and a spa, it also has its own yoga Shala, running group and individual sessions.
Special sessions coming up are a transformative writing and yoga retreat from July 2 to 5 with Australian writer Kerry Sunderland, and its popular Eat. Yoga. Love. from July 29 to August 1.
Join the daily group or private yoga classes, then unwind further with a soak in the stoked hot tub, a massage or bespoke facial, before dining on some of the private chef's showcase creations. Nurture your body, mind and soul. Relax and recharge!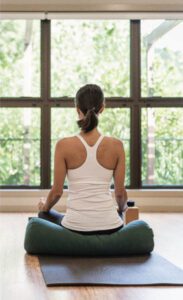 www.maruia.co.nz
027 563 3143
contact@maruia.co.nz
Fiordland fantasy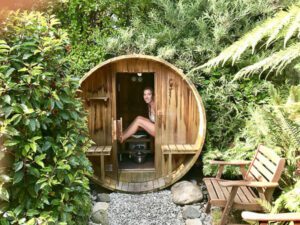 Hot tubs, saunas, and a botanical wonderland; what more could you ask for in a Te Anau getaway? Why not let previous guests tell you?
"I look for three essentials: an outdoor bath, an unbeatable view, and a location suited for adventure. The aptly named Getaway Te Anau checked all three boxes, and more.
"… an outdoor tub is the pinnacle of the getaway experience. There's nothing quite like soaking under the stars, surrounded by nature. The fresh-water hot tubs at Getaway Te Anau were the answer to my glamping prayers," says Hannah McKennett (Digital Nomad Diaries).
• Book before November 1, 2021, mention Metropol Magazine and receive a free hot tub and sauna session for up to four people.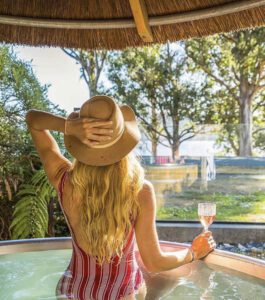 www.getawayteanau.co.nz
0800 249 746
stay@getawayteanau.co.nz
Ambience in Queenstown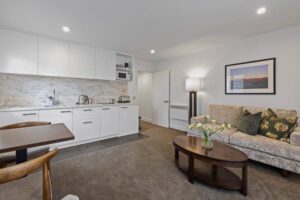 Nestled on the shores of Lake Wakatipu, just 200 metres from the town centre, is the stylish Queenstown House and its newly renovated, self-contained luxury apartments.
A haven with an absolute lake-front setting, it offers five fully serviced apartments, with remote check-in plus a 24/7 virtual concierge.
These beautifully appointed apartments come with guest parking and modern furnishings and appliances; everything you need for a relaxing getaway.
Early check-ins and also late check-outs are available, as are some great accommodation packages.
The water views are incredible and the best place to enjoy them from is your own sumptuous apartment, so check them out and book today!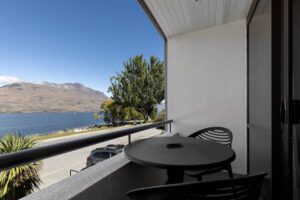 lakeside@queenstownhouse.co.nz
(03) 442 9043
stay@queenstownhouse.co.nz
A tranquil eco resort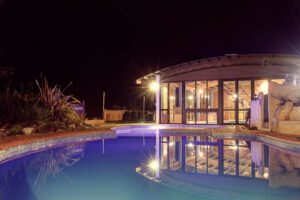 Kimi Ora Eco Resort offers cosy accommodation, day spa, on site vegetarian restaurant, and pool and spa facilities all set among native bush with views to the beautiful Kaiteriteri beach and estuary.
The famous Kaiteriteri Mountain Bike park starts at the back of the property and there are endless adventures to be had in the beautiful Abel Tasman National Park.
Spend your days kayaking, walking, taking a waka tour, or simply relaxing by the pools, soaking in the hot spa or being pampered with one of our many spa treatments.
With so many activities on offer, on site and in the surrounding area there is something for everyone.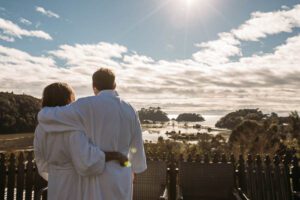 www.kimiora.com
(03) 527 8027
info@kimiora.com
---