---
When GM made the decision to pull out of all right-hand drive markets after the demise of the Holden brand, needless to say a few gearheads were less than overjoyed with the news. Therefore, there is a chance this facelift Chevrolet Camaro could be the last new GM product we get through HSV dealers in New Zealand. Oh, and it also happens to be a beast of a muscle car.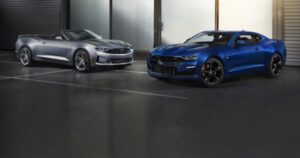 On the outside, the facelift Camaro 2SS has been given a stylistic nip and tuck.
A more pronounced mouth with the Chevy bowtie badge as the centre piece makes for a more aggressive front, and the revised taillight cluster and new alloys look the business.
Under the bonnet sits the hefty LT1 6.2L V8 with a fairly substantial 339kW of grunt and 617Nm of torque.
The biggest change mechanically is the addition of a new 10 speed automatic gearbox. It's very good by the way, but more on that in a bit.
Inside you get a very driver-focused cabin, containing nods to Camaros of the past while still feeling up to date.
You sit very low and sports car like in the seat and the small steering wheel feels good clasped in your mitts.
Standard kit includes 20-inch alloys, Brembo brakes, LED running lights, Apple Car Play/Android Auto and dual zone climate control.
Fire up the LT1 V8 and you make everyone within a few 100 metres of you aware of your presence.
Blip the throttle and it bellows like a proper V8 road burner should. Touring mode allows you to cruise along in comfort with the V8 burble slightly subdued in the background.
The LT1 V8 also shuts down four cylinders if they aren't needed, returning combined fuel consumption of 11.5L/100km.
Change up to Sport and things get racier and louder; put it in Track mode and the steering and throttle response sharpens up, plus the shifts on the 10 speed box become quicker.
In Track mode you can make mincemeat of bendy bitumen; a welcome sensation as Camaro's of old were never that great at the twisty stuff.
The 2SS stays planted and gives you the confidence to push harder. Sure, you can cruise in the Camaro, the ride is comfortable too, but it feels more at home having its neck wrung.
Despite niggles like some excessive tyre roar and intrusive wing mirrors when turning at a junction, the 2SS Camaro is a damn fine continuation of a muscle car legend.
Fingers crossed it will stick around in the New Zealand market for some time yet.
---