---
There is nothing so gripping as a mystery slowly revealed and that is what you get with this surprising and smart Marama Crescent home, designed by Ben Brady of Linetype Architecture and built by Dean Harrison from H3 Builders.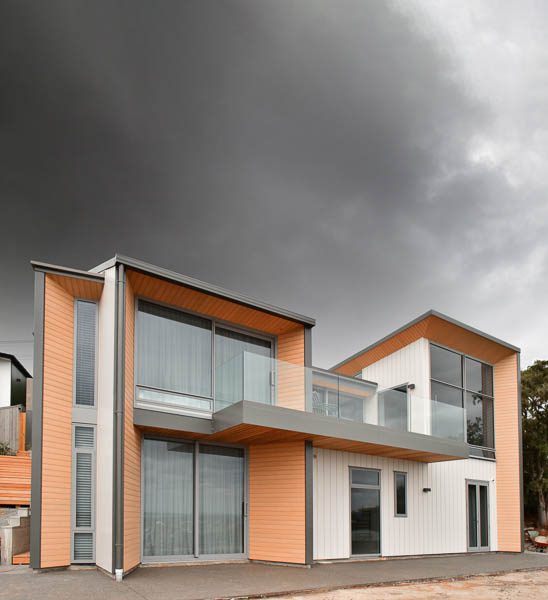 At street level, the observer sees the garage and entry way, angular and facetted in stack bond concrete block.
Those who make it across the threshold then see the home expand into the courtyard downstairs, with a stimulating range of spaces and orientations.
The sloping site generated three levels: entry, down to main living and master bedroom, down to two further bedrooms on the lowest level.
Extensive glazing provides sight-lines through the building to capture views of the city around to the Kaikoura Ranges, from that vantage.
Large windows frame the vistas from each room while clerestory glazing above the living room captures light.
With easy care in mind, the owners sought low maintenance and solidity, choosing cladding in powder coated aluminium in Bronco and Canvas Cloth, with colourfast timber composite Innowood.
They also briefed a concrete floor to provide solidity, building performance and heat, but this required a robust structure involving plenty of steel with panels underneath, designed by Ben.
"There are almost as many structural drawings as architectural drawings for the house," he says.
Connected yet separate spaces are a feature, as is a blurred concept of inside and out.
Concrete block is used inside as interior pillars, and an off-form concrete beam plus the courtyard extend in to support the top-level landing.
Vaulted stagger patterned poplar plywood ceiling, in the living areas connect them to the upper level.
Ben found Dean impressive to work with. "He needed very few calls to get his head around the structure. He is so enthusiastic, with high standards and close attention paid to sequencing."
Dean says, "We loved the build complexity: angles, three-storeys and the sheer variety of elements, which included exposed insitu concrete beams, honed concrete blocks, pre-finished cladding and timber ceiling."
Hands-on every day from shovelling mud, to project management, Dean loves the challenge of a hill site.
"Ben's plans were great and he is easy to work with: always ready to discuss ideas and solutions. The enjoyable challenge created a really great house."
---