---
Her name graces some of the country's most elegantly feminine designs, forming a sartorial success story Annah Stretton has quite famously built up from nothing. It's the story of a young mum from rural Waikato who started a fashion line from a dairy farm, making a million dollars in its first year.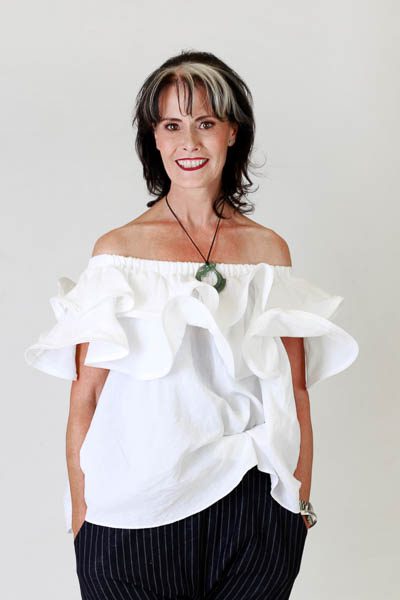 Almost three decades later, as she prepares to hand the reigns of her fashionable empire over to daughter Sammi, she's still as passionate today about everything she has turned her talented hand to.
Can you tell us about your latest collection Undone Glamour and the inspiration behind it?
The collection is taking its style cues from that all important Art Deco era; an era that signalled the winds of change for a women's potential and place in the world and saw hemlines and hair length start to rise up in response. There was a freedom of spirit and celebration that infused the fashion of the day that will forever be synonymous with glamour and that made it perfect for the 'glamour your way' feel that we wanted the winter collection to have. The collection uses a jewel-like colour palette of cerise, dark sapphire and emerald green and pairs that with the bold and beautiful fl oral and geometric patterns in velvet and other beautiful fabrications that the Annah Stretton brand has become famous for. Design wise; there is a rich array of dresses, wide length pants, jumpsuits and two-piece outfits cut to suit the widest possible range of body shapes and sizes.
---
How would you define your design philosophy?
The Annah Stretton brand has always been about bringing colour, femininity and fabulousness to every woman's special occasion and work wardrobe. At long last, we are living in the age of beauty where youth and body size no longer define what is beautiful. Today beauty is about being comfortable in our own skin and celebrating our body by feeling and looking fabulous. I like to think that our brand has always been in this space, with designs and styling that celebrate the beauty in all women.
---
Can you tell us how you were able to establish yourself in such a cutthroat industry?
Getting established was the easy bit. Back in 1992, the competitor landscape was reasonably one dimensional. There was no online shopping, no international retail chains and very little product was being manufactured offshore, particularly at the top end of town. Success was all about establishing a strong retail footprint and building a loyal following through the design and manufacture of a well-made product. Fast forward to 2019 and life in the fashion industry couldn't be more different. Competition is global and retailing is a 24/7 operation. New Zealand women can shop anytime, anywhere, with any label at any price point. To remain in business requires constant vigilance and reinvention. Nothing is as it was and the future demands that no complacency ever slips into a business. New Zealand has seen so many great labels suffer and ultimately close their doors as retail therapy goes online and goes global. Reinvention and a customer-centric focus is the key to surviving and thriving in this industry, but it is never a guarantee of recurring success.
---
In an industry that is said to take no prisoners, how have you not only been able to be an incredible success, but been able to remain current?
I guess that comes down to how you measure success. For me, success has never been about 'the Boat, the Bach and the BMW' to coin a phrase. Instead, it's always been about making a contribution far broader than the delivery of a healthy bottom line. Right from the very beginning, the philanthropic heart of the company has been beating loudly. The staff, the customers and the community causes that we support have always been so much more important than the dollars. As a country, we are now starting to acknowledge the value of our human capital, but as a business we've been in this space for the last ten years. You only need to look at the average tenure of my retail and head office staff to see this ethos in action.
That same loyalty has also been present amongst all the wonderful women who continue to love the label. Their faithful support has enabled me to set up my charitable foundation and begin to make an impact on some of New Zealand's more significant social challenges.
---
Why do you think people have connected so strongly with what you do?
Possibly because we are so much more than a fashion label. Everything we do is about making a bigger contribution in the community. When women buy from us they enable me to advance the social causes that have reached epic proportions in New Zealand. The social divide and therefore social challenges that we now face are significant. The only way forward is to apply new thinking and in doing so give hope and purpose to those who have never had any. We all deserve to travel down a pathway that brings us joy, and I'm absolutely passionate about making this happen for the socially disadvantaged women that I work with.
---