---
A much-loved dessert in southern Italy, spumone is a simple dome or loaf-shaped ice-cream cake, served sliced into wedges.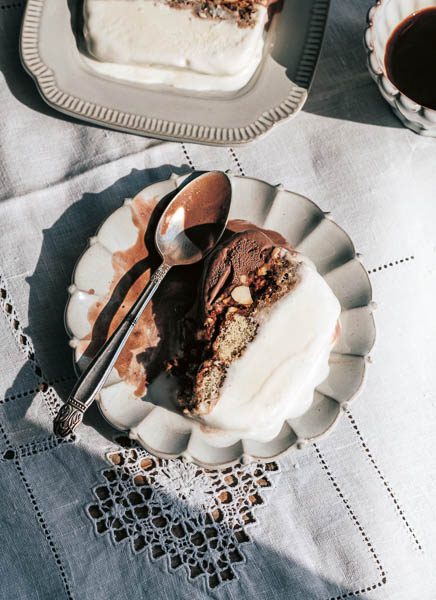 INGREDIENTS
50g savoiardi biscuits
60ml espresso coffee (or milk), cooled
GELATO
4 cups full-cream (whole) milk
200g sugar
100g 70 percent dark chocolate, roughly chopped
30g unsweetened cocoa powder
1 cup pouring (single/light) cream
CUPETA
100g whole, raw almonds
60g sugar
METHOD
Gelato: Place milk and sugar in a saucepan. Heat until almost boiling (you mustn't let it boil). Sugar should have dissolved and surface of the milk, frothy. Remove from the heat and pour half of the milk into a container. While it is still hot, add the chocolate and cocoa to the milk left in the saucepan and whisk until smooth. Cool, then chill in the fridge. Leave the container of milk and sugar to cool completely, add the cream and chill in the fridge.
Churn the milk gelato in an icecream machine according to instructions. While the gelato is still soft, pour it into a loaf (bar) tin lined with plastic wrap and smooth it out with a spatula. Cover with plastic wrap and place it in the freezer to harden for a few hours or overnight. Churn the chocolate gelato in the ice-cream machine until soft and creamy.
Cupeta: Place almonds, sugar and 1 tablespoon water in a single layer in the bottom of a frying pan set over a medium heat. Cook until the sugar begins to melt and turn caramel brown. Shake the pan occasionally as the sugar melts, then toss the almonds with the caramel until toasted and well coated. Pour mixture onto a chopping board lined with baking paper and leave to cool. Before it is completely cool and hardened, chop finely with a heavy knife.
Dip the savoiardi biscuits into the coffee (or milk) and place a layer of them evenly over the fior di latte gelato in the loaf tin. Sprinkle over the chopped cupeta, then smooth over the softened, just-churned chocolate gelato right to the top.
Cover with plastic wrap and freeze until the chocolate gelato has hardened. Turn out onto a flat serving plate.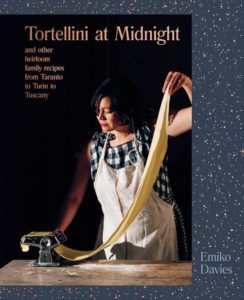 ---