---
By day Lucy Wyma is a prickly, troubled teen causing chaos at Shortland Street Hospital. By night she is a glamorous model, traversing runways and posing for
glitzy fashion shoots.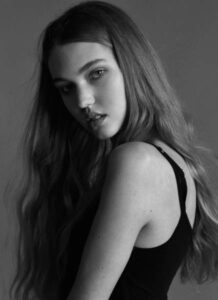 But it's all in a day's work for the striking 24-year-old Cantabrian who has been scaling the divide between acting and modelling since being scouted by Portfolio Model Agency Director Mel Radford when she was just 13-years-old.
"She had that X-factor – natural beauty and maturity – something that an agent is always on the hunt for," says Mel.
"And during these past 10 years, Lucy has continued to shine."
After cutting her acting teeth on every school drama production she could, Lucy's breakthrough role was as Ginny and Jonty's wayward daughter Hayley Smith-Robinson on Hope and Wire, Gaylene Preston's dramatic three-part miniseries about the Christchurch earthquake.
"I was hooked!" she says of her first experience working on a film set.
But Hayley had nothing on Petra Freeth – Lucy's Shortland Street alter ego and her most recent day job. She has, after all, turned up in the emergency department after a botched surgery in Thailand, much to the dismay of her estranged on-screen mother, conservative politician Michelle Beaufort (Lisa Chappell), the new love interest for Shortland Street alumni Chris Warner (Michael Galvin).
"She's a prickly character," Lucy laughs. "But the most fun to play and explore, as the 'villain' characters often are. The people there have also been so incredible and welcoming. It's like big crazy family, I've made some wonderful friends there.
"I'm enjoying every moment of it."
Whether it was singing, dancing or acting, Lucy knew she wanted to be a performer since she was about three. It seems like the sky is the only limit for this homegrown talent who was signed by the prestigious modelling agency IMG via Portfolio and its international booking agent MHI Global when she was just 20, following in the glamorous footsteps of Gisele Bundchen, Miranda Kerr and Kate Moss, who have all been signed to the international agency.
If she had a comfort zone to step out of, the signing did it, with the Papanui-raised Lucy walking in Sydney's Mercedes Benz Fashion Week, modelling for the likes of long standing label Stolen Girlfriend's Club; there's even been some magazine shoots in there – two Metropol covers included!
Although she's now based in Auckland with her acting agency, she still heads back down to Christchurch for bookings through Portfolio, such as for luxurious home fragrance brand Lyttelton Lights.
But acting was always Lucy's first love.
"Both industries are challenging in their own ways and as I've been doing both since a fairly young age, I've done a lot of growing and creating of myself within them," she explains.
They've allowed me to go to the most wonderful and bizarre places, and meet the most incredible people I wouldn't have crossed paths with otherwise."
It's acting which enables her to "play and create, and explore lives and worlds outside of my own, to then tell those stories".
Portfolio Director Mel says she sees Lucy's star continuing to burn brightly.
"I feel she will have great longevity with her modelling, which will complement her main focus and passion of acting.
"It has been so exciting and fulfilling to see how well Lucy has progressed within our industry and watching her grow and flourish from managing her as a teen, now to a beautiful and successful young woman shooting for the stars!"
Making it back home to Christchurch for a regular break is a must-do for Lucy and not just when work is calling.
"I love coming home; there's something about the South Island that makes me feel like I can breathe again," she says.
"It's been a wild roller coaster going straight from lockdown to Shorty Street, so I'm going to enjoy a visit home – do a lil' road trip while I'm there, breathe in the South Island air, then back up to Auckland to hustle and get ready for the next adventure!"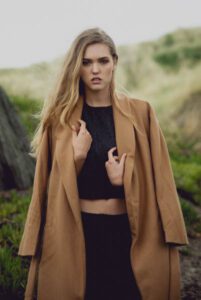 ---