---
When Sue Nicholson was four years old, she saw dead people. Of course, she didn't know that was anything out of the ordinary at the time. "I thought it was normal. They were just there," says the beloved psychic medium who captured minds like she captured hearts on Sensing Murder.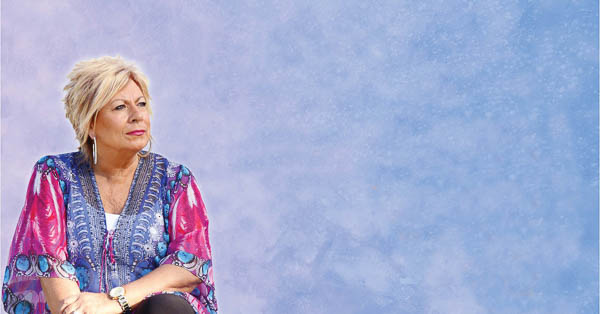 "They would talk to me, give me messages, which helped me along my way." Even her husband didn't know, at least officially, until she "came out of the spiritual closet" some 30 years ago. But she knew before he did that they would end up in New Zealand before he told her of the work opportunity that had arisen.
For the trained healer and reiki master, who also provides healing massage, along with hosting retreats, workshops and tours, the journey started through word of mouth. It was 'spirit' – as she lovingly calls those who visit her – who told her to put her card on a noticeboard tucked away in a back entrance to a supermarket where few people would even see it.
She did get a call from that card – it wasn't for a psychic reading or even a massage. It was a reporter interested in meeting her and an interview was scheduled for 3pm Tuesday. It was 'spirit' that informed her the reporter would in fact not get there until 3:10pm, so when the reporter called and Sue was already aware of the 10 minute delay, it set off a chain reaction that would later result in another phone call – this time from the Sensing Murder producers.
The fact that Sue knew the producer – who was yet to tell anybody – was pregnant secured her a second interview and, when she connected to the spirit of a young girl who was used as a test case to assess Sue's credibility, it guaranteed her a spot on the show.
But the show, which had delving into cold cases at its heart, took its toll. "Out of all my work, Sensing Murder was the hardest," she says. "You get the backlash; bullying; I couldn't get scenes out of my head; I had to go to counselling. When you come back, you're not allowed to speak to anyone about it, so I had to process all that myself."
One case – a 10-year-old boy who had been abducted – hit her particularly hard. "I have a 10-year-old grandson; I couldn't sleep; it really upset me. I couldn't do it anymore." When they again asked her to participate in the latest season, she politely declined.
Now she's throwing herself into her seminars and she hits Canterbury on 4 September to talk loss, grief and healing, which she says is a much more fulfilling aspect of what she does. "People could have lost anything. It might be material things. In Christchurch, we will look at the trauma of the earthquakes. It's about healing.
"I wanted to do something totally different that would help everyone. Not everyone is spiritual, this is not a spiritual thing; it's about working on yourself, releasing blockages. I'm simply providing the tools. I work to help dis-ease the body in order to prevent disease."
For tour dates and bookings, visit www.suenicholson.co.nz.
---