---
For most brides-to-be, planning their wedding day is a magical part of the journey of life. And, while that is undoubtedly true for Christchurch bride Litisha Cleave, the fact that this wedding was the last chance to pull together her loved ones in a beautiful and poignant celebration of life isn't lost on anybody, certainly not the 300 loved ones that gathered at Amberley House to witness her marry the love of her life, Riki Boyle.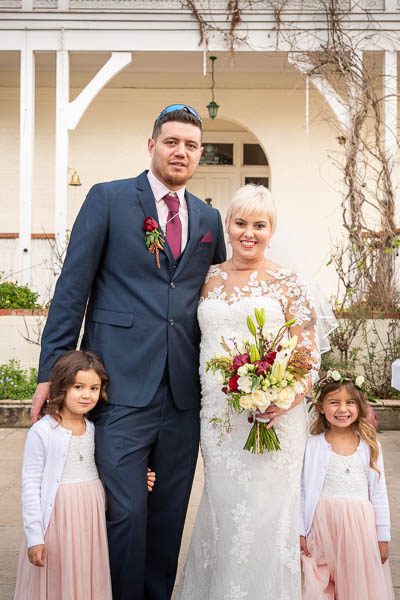 The fact that this beautiful day was pulled together in a record three weeks at the hands of the community is not only a remarkable feat of organisation, but it also hints at just how much the story of Litisha and her young family has touched the hearts of the country.
Just two years ago Litisha was a young mother of two with the world at her feet. A registered nurse, she spent her days working for Plunket. She was into her weight training and regularly participated in boot camps. So when she found two seemingly identical lumps – one on each breast – she thought little of it. She was after all, just 29 years old.
It wasn't until Litisha started feeling cripplingly tired that she sought medical advice. It was her iron levels that were front of mind but it was the lumps – mentioned more as an afterthought – that were where the problem lied.
"Within 24 hours I had my results. It ended up being stage three breast cancer and triple negative, which is one of the crappiest breast cancer types you can have – and the most aggressive," Litisha says.
Not only was the first breast confirmed as breast cancer, even more rare was the fact the second biopsy too, was positive, with only the genetic testing that came up negative. It was just weeks after her 29th birthday.
Litisha immediately underwent six months of chemotherapy, shrinking the tumours enough to enable surgery, undergoing a double mastectomy and full node clearance. Rehabilitation followed, before a round of radiation over Christmas. There was a break before another round of "preventative" chemotherapy, which was ended early due to side effects. She was the best she had been for the longest time during a family holiday in May this year, but soon after returning, she found out the cancer had spread into her bone marrow, liver and her lung.
While she expected the loss of her hair to hit her hard, it didn't. "It hasn't been about image or anything now, which I thought I would really struggle with, but it's actually just about wanting to live and do everything I want to do."
For Litisha, everything she wanted to do was centred around the girls. "They've been fully aware of everything through the whole process and I've been quite open and honest," she says. "But not about the fact that I've got limited time, so I've got to deal with that now. I've got to try and tell my kids I've only got so long to live; that's really hard."
It was two years ago that Riki proposed – on Litisha's 28th birthday. Their girls – three-year-old Lylah and four-year-old Hazel Boyle – being the drivers of the wedding. Three weeks is a record time to organise a wedding, but the dress was the easy part. Soon before being diagnosed, Litisha was strolling through Merivale with a colleague during a lunch break when she spotted a sale at Robin Cliffe.
Her dream dress was in store, half price, but what sealed the deal was the fit. "The lady that was working was like, 'that never happens! Normally you have to alter something, but that dress is made for you'." Litisha went back and bought it and, on 27 July 2019, she walked down the aisle to Singing in my Soul by Fly My Pretties, looking every inch the angel that she is in that very dress.
Litisha has prepared the girls' birthday presents up until their 21st birthdays and is making videos to leave for them. A second engagement ring – identical to that given to her by Riki – has been prepared so the girls will receive one each on their 21st birthdays.
"I just want them to know that I love them; that I'm proud of them; that they can be anything they want to be; that I'll always be there, even when I'm not, and just to live life," Litisha says, tears streaming down her face. "It's when it's about my kids that it hits me. I'm not actually afraid of dying, I'm just afraid of leaving them, like really afraid." The most comforting thought is the knowledge that they'll be well looked after. "I've got such a good family and so many good friends."
It was friends and family that made her dream come true. Close family friend Lisa Attewell played an integral part in getting the wedding together, after starting a Givealittle page in Litisha's honour, while Riki's sister Liana Porter also played an important role in the planning. But it took a village.
Litisha and her family want to thank the following people and businesses for their unwavering support, coming together to make 27 July special:
Angie and Andy Mason from Amberley House, Fulton Hogan, Farmhouse Florists, Bourbon Rose Florists, Hirepool, Kennards Hire, Lux Loos, Meisha Campbell from Design by Meisha, Fleur Couture Ltd, Something Borrowed Something New, Martin Setunsky Photography, Take Five, On the Dotted Line, TES Events, Rebecca Guyton Make Up Artist, Christie Chambers from Minifies, Evolve Hair/Mane Hair, Nyree Huyser, Close Encounters, Mel Wilson, Corina's Cakes, Tania Johnson-Scott Celebrant, Rubarb & Relish, Mereana Karamaena and her catering team, Tracey+Tarena+Selena+Vila who were on the bar, Close Encounters, Mel Wilson, Plunket, Bubbling with Energy, Byrony Armstrong, Ali Heyl from Broadfield Beginners, Liana Porter, Lisa Attewell and all donators to Givealittle.
---