---
A welcoming icon of community resilience stands proud in Redcliffs – a victorious beginning after a school's endurance of a long, patient journey home.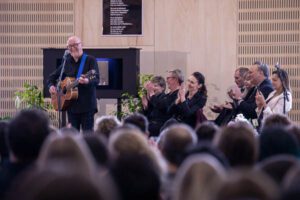 On June 22 Te Raekura Redcliffs School opened its doors and the community can now celebrate and enjoy the everchanging estuary views from the picture windows.|
Three days later, Prime Minister Jacinda Ardern spoke at the official opening day and Kiwi icon Dave Dobbyn entertained, singing a poignant Welcome Home to a group of around 600, with the school's new haka, gifted by school parent Quentin Hoera also contributing to the emotionally moving week of events.
Principal Rose McInerney who remained head of the school since its closure in 2016, says the mood from the whole community was of both excitement and relief.
The new school has been built for a roll of 300, with 210 children enrolled on opening week. The build has future capacity for the school's masterplan of up to 400 pupils.
"When we first moved to our temporary Sumner home back in 2011, none of us could have possibly imagined the road that lay ahead," Rose says.
"It is with immense relief that we now put that journey behind us, moving into our wonderful new school with a renewed sense of energy and encouraged by the enormous support of our community."
The 2011 earthquakes saw the much loved Redcliffs school move from their original home, after it was deemed unsafe from cliff fall in June of that year.
The roll then stood at 400. The school was going to close forever in 2016 – but the community fought with passion to keep their primary school that had shaped generations of young lives. For the last nine years, Redcliffs School has been operating at Sumner's van Asch Deaf Education Centre.
The school's new name for a new era, Te Raekura Redcliffs School, translates to The Red Cliffs.
The name, along with other te reo names used throughout the campus, was gifted by Mātauraka Mahaanui, an organisation established to include Māori and Ngāi Tahu content in the city's rebuilt post-earthquake schools.
"Our return has been down to the tenacity and doggedness of many, many wonderful people, volunteering their time and playing an integral part," Rose says.
The $16 million rebuild by Naylor Love Construction resides on the original Redcliffs Park site, it is now a local landmark from Main Road and Beachville Road.
Striking coloured precast panels blend into the environment, giving ode to the red cliffs towering above the original site which will now become the local park.
LBL timber was incorporated, as well as structural steel with sliding plates, for seismic resistance. Built with ample ground clearance and a large decked outdoor area, mitigating the possibility of tidal flooding in the future.
Naylor Love Construction Project Manager Darryl Grobler says the play netting above a hexagonal garden area incorporated into the decking was his favourite part of the project.
Murals from the original school were given new life, as well as some original stone, now incorporated into the landscaping.
The original 107-year-old school bell, was also rung by the Prime Minister – announcing a rock-solid community has finally come home.
Upcoming Te Raekura Redcliffs School open days will be held at 2pm on 19 and 31 July, and 2 August.
---