---
If you've made your way over to the Lyttelton Farmers' Markets on a Saturday morning and noticed the 'Bambina', you'd be forgiven for thinking you were looking at your usual meaty sausage lying on a beautiful fresh bread roll.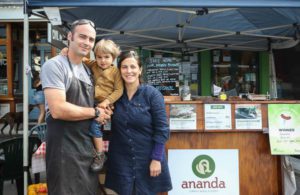 It's not even clear upon tasting that this is, in fact, an innovative plant-based creation.
Lightly spiced with fennel seeds and paprika, and with a chewy texture that gets crispy when it's shallow-fried, the Bambina looks and cooks much like a meat sausage, but is in fact, completely meat-free.
This impressive display of local food innovation has sizzled its way to the top of the 2019 FoodStarter competition where plant-based and vegan options dominated the entries.
Growing up in Argentina meant there was a strong connection between food and socialising for Ananda Simply Wholefoods founders Fernando Gutierrez and Marita Lopez. "Growing up in Argentina, barbecues were always an excuse to get together and socialise; that's in our genes," Fernando says.
"Every chance to cook or share food with friends and family was a good one."
So when the couple went vegan 12 years ago, it meant getting creative with their meat alternatives.
When they arrived in the land of the long white cloud, they found just one vegan sausage available on the market.
"When we first arrived in New Zealand from Argentina seven years ago, we realised there was a gap in the market for a good, high protein, plant-based product," Fernando says.
The couple began producing the Bambina sausages, along with vegan and gluten-free patties – a smoked lentil patty and a chickpea patty – and their classic Argentinian Chimichurri dressing, also vegan and gluten-free.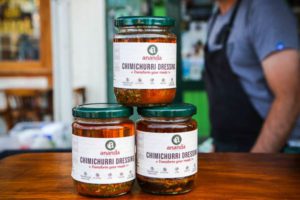 "We started at the Opawa Famers' Markets, then the Riccarton Bush markets, now we're at the Lyttelton Markets. From there we were able to build up regular customers and then moved into shops and restaurants," says Fernando, who worked as a full-time landscaper until three months ago, before moving to part-time hours so he could concentrate on making sausages. "But now we have a lot more to do!"
They certainly do, with the FoodStarter win coming in when Marita was 37 weeks pregnant with their second child.
The Bambina sausage was one of 121 entries to the FoodStarter competition, a partnership between Foodstuffs South Island and the Ministry of Awesome (MoA), based at the Te Ōhaka Centre for Growth and Innovation, at Ara Institute.
More than 90 percent of entries had a health, environment and dietary awareness focus, with four of the top five products being vegan.
"The entries showed just how impactful the current trend for plant-based and vegan is," Ministry of Awesome Chief Awesome Officer Marian Johnson says.
"We're in the early adopter phase at the moment, but we are seeing a lot of startups in that area."
She often buys vegetarian sausages, but says the Bambina was a particular stand-out.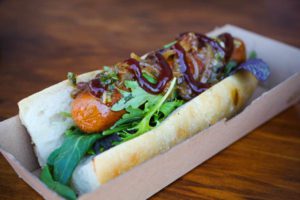 "This was amazing – it actually tasted like a lovely spicy pork sausage," she says.
"It held together really well and had the kind of texture you'd expect from a good sausage.
It was an incredibly tough competition, and we saw an outstanding display of innovation, invention and passion from all five of our finalists."
It was a sentiment expressed by all the judges.
Foodstuffs South Island CEO Steve Anderson says all the top five entries showed stunning innovation, but Ananda Simply Wholefoods' vegan Bambina sausage was exceptional.
"You can't tell it's plant-based – we thought there must be some kind of meat in there, but there's definitely not. The balance of flavours and textures make it a truly worthy winner."
The $75,000 business incubation prize package includes product development from FoodSouth, brand and design guidance from Strategy Advertising, business startup incubation at Te Ōhaka – Centre for Growth & Innovation, guidance from MYOB staff and guaranteed placement of the winning product in all New World supermarkets across the South Island – a prize Fernando and Marita describe as "life-changing".
---