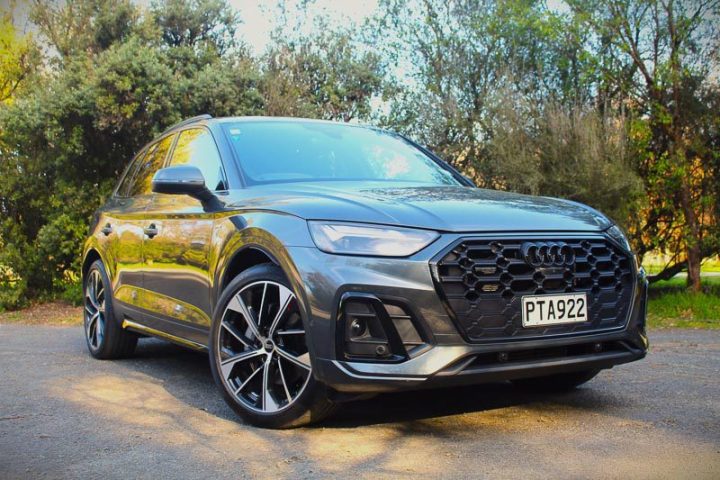 Not your usual ride
This may look like a regular Audi Q5, except it actually isn't. 
The Q5 has been a mainstay of the Audi family for many-a-moon, being a strong seller in the uber-competitive premium mid-sized SUV sector for over a decade. As the Ingolstadt brand moves towards a more electrifying future, the Q5 is the latest Audi product to be give a jolt by way of the new Q5 50 TFSI e. Yes, the Q5 is now a plug-in-hybrid.
As we have established, the Q5 TFSI e doesn't scream electrification over its ICE counterpart, but it does look pretty swish with its S-line honeycomb front grill, roof rails, black badging and 21-inch Audi Sport alloys.
The meat comes in the form of a 2.0L TFSI turbocharged four-cylinder petrol engine with the addition of a 14.4kWh lithium-ion battery pack. The system gives a total power output on 220kW/450Nm and will return 1.6L/100km in combined fuel consumption thanks to the battery.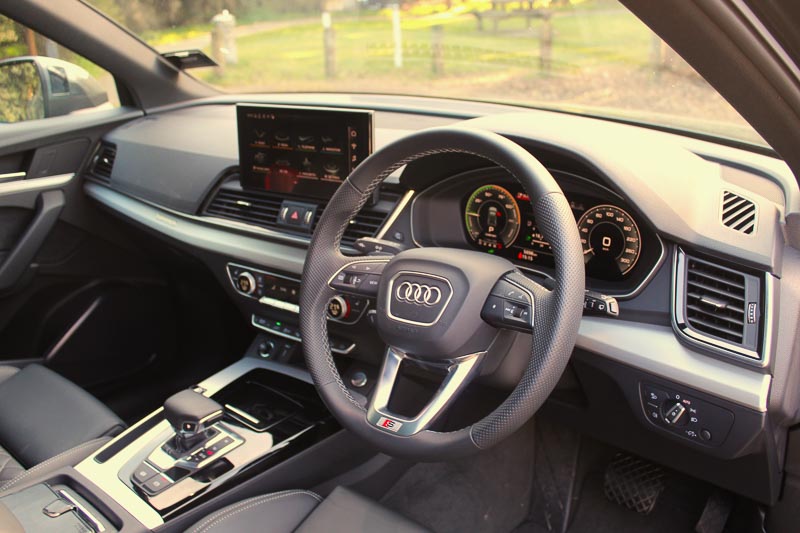 Said battery will allow the drive to cover 62km on electric drive alone. Driving in Hybrid mode allows the Q5 TFSI e to see saw between petrol and electric drive wherever it is need and Audi's PEA or Predictive Efficiency Assist feature
will read the road ahead and discern whether the car needs to recuperate electric energy with regenerative braking or just freewheel silently.
With a Type 2 CCS charger, you can fully recharge your Q5 PHEV in a matter of hours.
Inside it is incredibly refined. Everything you touch and operate is so well put together. You get everything you would expect in terms of toys. Plus, if you download the myAudi app, you can check your Q5's battery and range status, and a great deal more.
The myAudi app allows customers to use the services from the Audi connect portfolio on their smartphones, which is particularly practical with electrified models. The app can also be used to start the charging process, programme the charge timer, and view the charge and consumption statistics.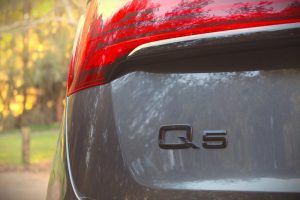 On the move the combination of electric torque and probably one of the most refined ICE power units in this class come together to give a seamless power and torque delivery. It's a quiet one too. It seamlessly see-saws between electric and petrol in hybrid mode, though you wouldn't know it.
The plug-in Q5's ride is pretty much perfect. It's wonderfully smooth, without compromise on the handling front. Naturally you stay tight and true in the bends thanks to the Quattro AWD, and the miles are munched up with ease.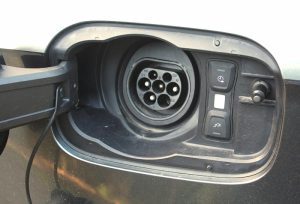 The Q5 TFSI e will set you back $114,990 plus ORC, but I would say its one of the best all-round premium SUVs out there.
Keep it up Audi.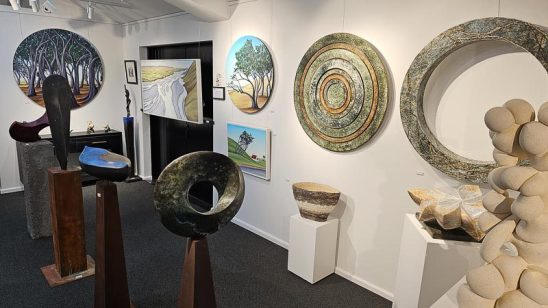 Previous Post
Next Post