---
A tucked away treasure is the only way to describe the newly formed boutique and it's lovely owner only a short drive away from Christchurch. Robyn created Thea's 'New & Pre Loved' Boutique, to pay tribute to her late mother Dorothea, in September last year.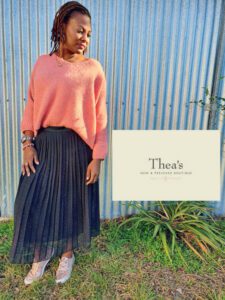 It is clear to see that Robyn loves what she is doing and is proud to say, she's "always been fashion minded; it's always been a passion that I needed to start again".
And that passion is reflected in the bespoke boutique for likewise fashion lovers.
The shop offers amazing ranges such as Italian Range, Foxwood, Siren, Hinako footwear, Seeking Lola, and other similar brands all in an affordable price range.
Not to mention, it also has some lovely home wear items on display, making it a one stop shop for all of your clothing, accessory, shoe and homeware to change your home décor.
She really "likes people to walk in and it feels homely".
This go-getter isn't showing any sign of slowing down, proudly saying that, "Even though I am 71, I wasn't ready to just sit at home".
So, what's the next step for Thea's? Robyn explains that "they say with fashion it takes one to two years to establish.
I want to expand the business further, but I want to take my time".
You can find this hidden gem at 102 Main Street, Oxford. Give them a call on 03 312 4509 or check out their Facebook page for all of the latest updates.
---