---
We talk travel with House of Travel Ferrymead owners Mel Hubber and Kim Beswick, in the first of an ongoing column.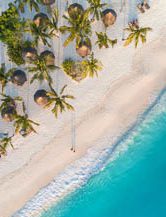 You are both working mums, tell us more about your families?
Kim: My partner Tony & I have a gorgeous three-year-old son, Theo, who seems to be in charge at our place as well as my partner's 21-year-old son. It's a busy, happy house.
Mel: I am a stepmum to a wonderful 18-year-old, Olivia who we have just helped relocate into the halls at Auckland University for her first year of a business degree. My husband and I have now found ourselves as empty-nesters.
Where was your most memorable holiday and why?
Kim: Such a hard question! Borneo was a wonderful holiday for us, amazing wildlife and scenery. Also, Theo's first trip when he was a baby and we stayed in a villa in Provence.
Mel: Egypt because I had always dreamed of seeing the pyramids and the Sphinx since I was young. Plus I went there on my own (and joined a group trip) which was scary but exhilarating at the same time.
What destination is on your wish list for 2020?
Kim: This year we are planning to go to London, Barcelona and Dubai for the World Expo in October and a quick trip soon to Auckland to see Book of Mormon.
Mel: Tahiti is just such an idyllic destination quite close to home and no shopping temptations as I just can't help myself.
---