---
Variety is the spice you'll find most often at Number Five Café in Templeton. Owner Deb Agnew ensures everyone is welcome and every taste is catered for at her sleek but thoroughly comfortable café.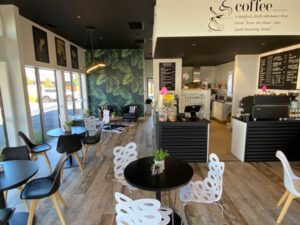 You'll find beautiful cabinet food including gluten free, keto, plenty of fresh healthy options and an amazing homemade sweet range, with scones and muffins made fresh daily.
There are also delicious items to order from the menu to make meals a real occasion: the hot roast meat sandwiches and selection of tasty soups are the biggest sellers.
Despite its pristine appearance, the team is keen to welcome "tradies" in search of takeaway food. "Muddy boots are no problem for us," Deb says. "You are welcome to leave them on while you choose from our selection of pies and sausage rolls."
The pies come in chicken satay, the perennial favourites – steak and cheese, mince and cheese, as well as creamy chicken and mushroom. The sausage rolls are homemade and very popular. "We are open from 7am until 3pm, so we can set you up for the day and keep you going strong," Deb says.
Deb is in the café every day alongside her amazing team.
"I couldn't do this without them – we really pride ourselves on service to our great mix of customers who are all ages, are workers, retired folk, young families, and friends catching up.
There is always chat and banter and we love seeing our regulars daily or weekly; they become good friends and they do come up with some wonderful foodie suggestions."
---