---
Donna Hay has always enjoyed cooking, with a grandma and mum who were happy to let her loose in the kitchen from a young age.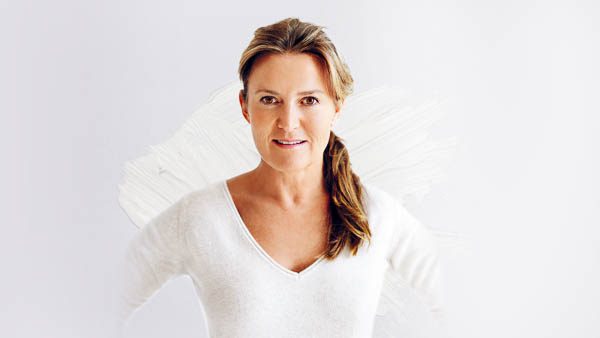 I am so incredibly fortunate to have been able to turn my childhood hobby into a lifelong career," she says.
When we catch up it's the eve of her new cookbook Week Light (published by HarperCollins) that has hit the street this month, and, even though there have been 27 bestselling cookbooks that have come before it, this one is particularly close to her heart.
She's been serving as editor-in-chief for her bi-monthly publication Donna Hay Magazine, which closed in July 2018 after publishing 100 issues across 17 years, so it's her first opportunity to get back to her core passion and let loose in the kitchen. "I'm really excited about this book," she says.
"After closing the magazine it meant I got to write recipes for myself again and do all the styling. I'm getting back to what makes me happy. The book has been a bit of a personal journey, but it's also a bit of where I think cooking is heading."
Week Light offers a new, modern way of eating all the different types of veges, she says. "There's meat thrown in there as well because I'm quite aware there are people who are into eating veges, but have teenage boys that are keen to eat meat," she laughs.
So if you once had a phobia of steamed cabbage, this might just have the inspiration to cook it in exciting new ways.
It's a different approach for the MasterChef generation. Rather than crafting elaborate recipes with a three-hour prep time, the common theme for Hay has always been writing recipes for the home cook. "So they're simple to follow and made with things that are easily available from the supermarket – not just things you'll only use once!"
"It's a different approach; we all have limited time, we're just juggling things like kids' homework. People are always drawn to the styling as well. I want them to look at a book and their mouth starts to water, then they realise all the ingredients are right there and they can make that! All those hooks have made me fortunate enough to have a long career."
When pressed for her foodie philosophy, it's 'simple made special'. "Which doesn't mean simple things made difficult; it's about simple foods made amazing!"
So how does a day in the life of Donna Hay look these days? "Not as many deadlines, that's for sure," she laughs.
"No two days are the same, which is great for me. I never have a day planned, which is how I've always been, but now I'm spending more time in the kitchen doing recipes – I love it!"
She's about to head up a female chef series in Australia, so she's been reflecting on dishes that have meant something special to her. There's certainly been plenty to choose from, so does she pick favourites or are they all her babies? "It's been a journey looking back at dishes that sparked something in my career," she says.
"I remember a pasta I did early on; its name has even changed over the years to 'Studio Pasta' because I used to cook big bowls of it for the studio. It's had different incarnations, but it's simply pasta with red chillies, baby capers, lemon rind, garlic, rocket, cracked black pepper and parmesan.
"It has come up so many times in my career and it has meant so much along the way as well, so it's going to keep going," she laughs.
Talking of keeping on going, Hay is certainly doing that herself. She's hitting New Zealand in the near future for 'An Evening with Donna Hay', where she will be taking attendees on a journey through the highs and lows of her hugely successful career.
She's got the overseas launch of Week Light, which will see her traipsing across the globe from Germany to the Netherlands. Then she's heading back to her homeland for the AO Chef Series at the Australian Open. There's another book in the pipelines before a big festival in Bondi.
So you can expect to see this name a lot more in the future. But in the meantime, Week Light open on your bench will just have to do.
---