---
It's been said that eyes without lashes are like cake without frosting. Such is our lust for lashes, that we've primped, preened, painted and permed them since almost the beginning of time. Although the evolutionary story of how eyelashes came to be is less than glamorous, their future is certainly looking lush – particularly at the talented hand of Keren Clayton.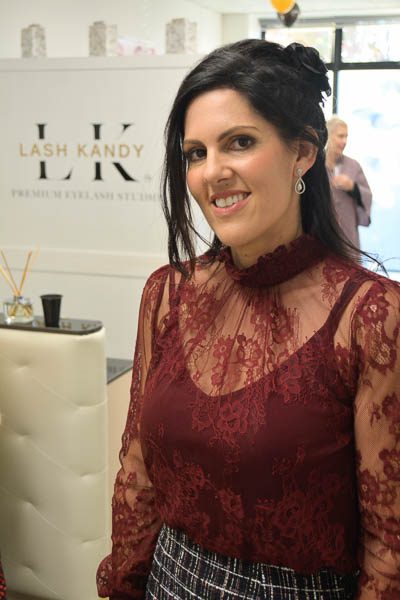 The Lash Kandy founder is already well-known in North Canterbury for providing high-end, bespoke lash extensions; now she's thrown open the doors of her high-end eyelash boutique at 135 High Street in Rangiora. And, although it may be hard to picture the glamorous local is a country girl at heart – living on a farm and also working within the dairy industry!
At Lash Kandy, every single one of your natural eyelashes gets to find its perfect partner, with Keren's practiced hand attaching a longer, more shapely extension to every single one, for a beautiful, natural look.
If you opt for a volume – or even a mega volume – set, you can get from 3 to 16 lashes for every single one of your natural lashes!  "A lot of women are scared to get extensions because they don't want the huge, big, false looking lashes," Keren explains. "We create a bespoke set of lashes for every client, to look as natural or as full as they want."
What makes this VIP treatment so VIP is the technique. Where some lash artists will add too much glue to your natural lashes and not isolate the eyelashes, they can prove itchy, uncomfortable and even damaging to your lashes or eyes.
For Lash Kandy, eye health is a top priority; they use only medical grade products and Keren has been trained by the best – the global best, that is. She has invested heavily in training, with one on one training in the UK with internationally recognised Eyelash Excellence.
She's even got plans to become an internationally recognised Eyelash Excellence Trainer, where she will be 'training the trainers'. Meanwhile, her daughter Kezia has caught the lash lush bug too and is undergoing training.
Extension maintenance is ideal from 2-3 weeks, as our natural lashes fall out at a rate of 3-5 every day. But at Lash Kandy, the online booking system makes scheduling easy. If growth is an issue, Keren will help you stock up on growth serums and she also does lash lifts if you want to go more natural, with the lift generally lasting from 6-8 weeks.
"Some people live for lashes. They'll forego their hair appointments, their nail appointments and their skin appointments. But that's OK because when you wake up and look in the mirror, you feel like a million dollars, whether you're 18 or 60!"
Lash Kandy is at 135 High Street Rangiora, phone 021 655 308 or email lashkandy@gmail.com.
---