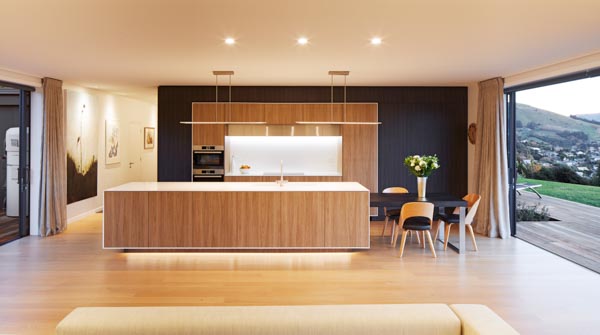 Creating kitchen envy
---
As if receiving the highest number of awards in one season ever isn't enough, Ingrid Geldof also flew home from the National Kitchen and Bathroom Association (NKBA) awards ceremony carrying the inaugural award: Designer of the Year, sponsored by Laminex.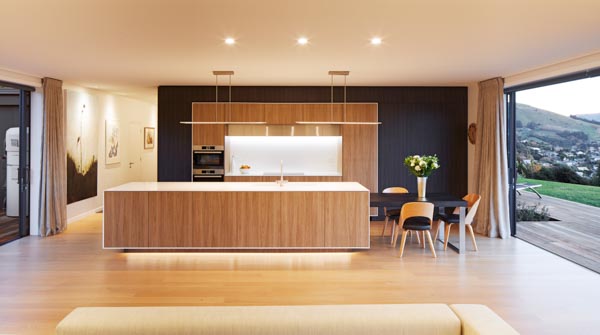 This new award requires designers to enter at least two projects, and the two projects with the highest marks are combined to find the Designer of the Year. Ingrid won this title for her entries Georgian Kitchen (featured on page 87) and the Akaroa Kitchen. Akaroa Kitchen was awarded Canterbury Kitchen of the Year sponsored by Artisan, and Kitchen $40-$60K sponsored by New Zealand Panels Group, bringing Ingrid's total number of honours to an amazing nine, for 2018.
Ingrid describes Akaroa kitchen as contemporary in style and very slick. All designed without handles, the kitchen features bi-fold doors with touch-to-open technology, a forward-thinking element employed before it was readily available for bi-folds. "Things are moving fast in our industry," Ingrid says. The kitchen enjoys divine views of Akaroa with sliding doors mirroring one-another on the West and East walls. The sunshine which inundates the room guided Ingrid's choice of melamine rather than natural wood, which would have suffered from the flood of natural light.
Not only an award winner, this is one of Ingrid's favourite ever kitchens. "I love the simplicity and its elegance, it is not symmetrical but it is balanced and it has exquisite fine detailing." The back wall houses the oven and cooktop, fridge and freezer. Cabinetry is two-toned with an outer frame in dark brown melamine named 'Oiled Legno', surrounding 'Prime Melamine Baroque'. Slipped between the two is a 50mm protruding, 12mm fine white Corian frame, with shark-nose edge. It's like nothing you've seen before and the effect is stunning.
The white 12mm shark-nose Corian is also used to wrap the island: floating off the floor up the sides and forming the worktop, complete with integrated Corian duo twin sinks. The 'frame' and bench were created by Benchtop Solutions, who worked closely with Ingrid to ensure the shark-nose profile was perfect. Prime Melamine Baroque encloses the island front and back, and an informal solid dark stained timber dining table, with stainless steel legs completes the unit. The kitchen is beautifully subtle and refined, a result not always achieved in a contemporary kitchen.
Modern Age Kitchens & Joinery was presented with an opportunity to create not just a kitchen, but an entertainer's dream, along with the other eye-catching joinery to complete the beautiful one-of-a-kind home. Ingrid and her clients required excellence, along with approachable friendly service, and that is exactly what was provided by the team at Modern Age Kitchens & Joinery.
The company's precise workmanship, attention to detail, professionalism and a great relationship with Ingrid, enabled Modern Age Kitchens & Joinery to bring Ingrid and her clients' vision to life. Owners Grant and Graham Woodham are grateful to have been a part of this journey and look forward to continuing to work closely with Ingrid in the future.
---
PROJECT PARTNERS
Modern Age Kitchens and Joinery
Ph: 03 365 1675
Web: www.modernagekitchens.co.nz
---