---
Wedding planning has got some sweet relief as the side effects of the Covid-19 pandemic look to be slowing down. And when it comes to choosing one of the sweetest parts of your big day, Metropol has rounded up some of the biggest confections trends for the wedding season ahead.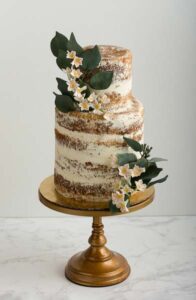 EDIBLE BLOOMS
According to wedding experts, edible pressed flowers are shaping up to be a major cake trend. That is, actual real flowers which can be eaten. Playing into the refined boho theme, edible flowers look especially beautiful when pressed into the icing.
MINI DELIGHTS
As ceremonies and celebrations become more intimiate to avoid possible Covd-19 restrictions, cakes are also taking a downsize. According to theknot.com, micro and single tier cakes are in vogue, and may be used just for cutting as guests enjoy an array of other desserts.
TEXTURED TIERS
Piping is nice, but texture is looking to be on the wedding cake agenda this season. Created by imperfect markings (pictured), artistic patterns and designs, and detailing, texture is tipped by theknot.com to stick around for a while, too.
---