---
Nestled high on a steep hillside section, a home designed to connect the openness of Sumner beach with the forested slope of Scarborough Hill was recognised at the local NZIA Awards this month, winning both the Canterbury Architecture Award and Resene Colour Award.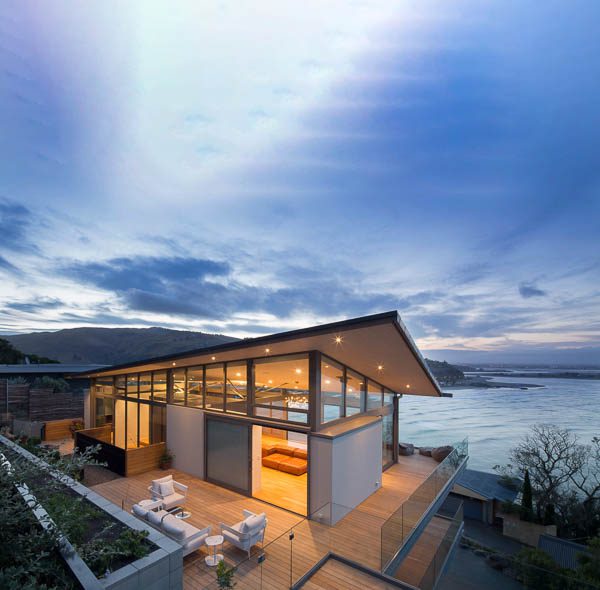 Designed by Borrmeister Architects, the brief for the 'Red Rock House' on Whitewash Head Road was for a relaxed, playful home, capturing the sun and views to the beach and uphill park, whilst providing shelter from the prevailing winds – as well as incorporating easy driveway access and parking.
Director Wulf Borrmeister says to tackle the difficult site, the house was designed around a strict 1.2m grid, resulting in a simple, rectangular foot print that stretched over three levels. "It was a challenging project, but we are really pleased with the result and the outcome was a team effort between all the parties involved."
Stand-out features include the stone-faced basement walls, appearing to grow out of the rock face, while anchoring the home firmly on the ground. The upper floors were designed to be sun-filled and open, consisting mainly of glass facades behind sliding cedar screens, providing sun control, natural cross ventilation, cooling and privacy. The home is protected by a lightweight, sail-like roof 'floating' above the space on two tree-like timber and steel support structures.
On the top level is an open plan kitchen, dining and lounge area, and a snug study. Three bedrooms, bathrooms, a laundry and sauna are on the middle level, with a double garage and storage in the basement. The stunning cantilever staircase was a challenge, says Mark Allworthy of Bates Joinery, "but the entire home's design was amazing and it was a pleasure working with Avenue Homes, who put a lot of thought into every detail and accept nothing less than perfect".
Large decks connect the house with a swimming pool, outdoor shower, veggie garden, 'grandstand' seating area and the uphill park. The exterior materials include plaster, corrugated Coloursteel and stone, sourced from the site's excavated rock; and complemented by a simple internal material palette of timber floors, light and dark walls, with playful wallpaper.
The family home incorporates a range of environmentally conscious features and emphasises the bespoke architecture Borrmeister aims for. "We treat every home as unique and we're really happy to be recognised for this award."
PROJECT PARTNERS
Bates Joinery
Ph. 03 388 8111
www.batesjoinery.co.nz
---