---
Grace Stratton is the voice of physically challenged individuals who struggle with online clothes shopping and now she's seeking to encourage a more diverse fashion industry, proving that disability can, and should, be a part of mainstream fashion culture.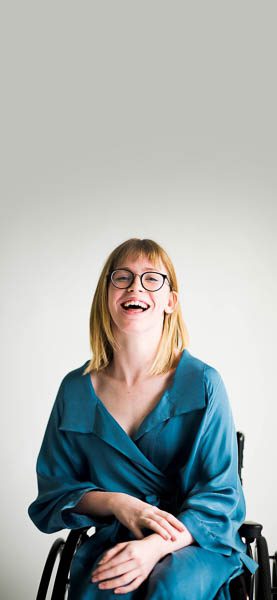 Grace is a fashion enthusiast, law student, a 2017 Young New Zealander of the Year nominee and a lifelong wheelchair user. She's also the woman behind All is For All (AIFA), the brand new local shopping platform with a difference: providing those with accessibility needs with the details that the everyday fashion website overlooks. Grace's endeavour to create a pioneering online store that makes accessibility a priority began last July when she received a pair of pants that she'd bought online from a Kiwi designer. She was disappointed to find an extra tie on the pants that hadn't been visible on the website, which meant that if she wanted to wear them, she would need a parent or caregiver to help her. Thus, a lightbulb went off and the venture to create an accessibility-friendly online clothing store began.
Less than a year later, the local fashion site has become a world-first; a curated collection of New Zealand designer fashion is presented free of the issues that people with access needs struggle with when it comes to online shopping. The garment is displayed on both able-bodied models and models with varying physical conditions and thoroughly detailed garment descriptions help customers make informed decisions. A custom-built search engine can address different needs, because when you have a physical disability of any kind, there are several different aspects that need to be considered when purchasing clothes online.
For example, a dress will look totally different on a model who is standing up than it does on a person in a wheelchair; a pair of jeans with small metal rivets can cause pressure sores for a paraplegic; someone who is blind relies entirely on an in-depth audio description, and the list goes on. "Accessibility is not just a physical thing – it's about everyone having the same access to the same experience and that includes online shopping," Grace says. Grace looks to invite and support all industries to address their online presence from an accessibility angle. We can only hope that AIFA will set the ball rolling and encourage other fashion websites to jump on board and provide a positive shopping experience to all those with different physical requirements.
---