---
What does popular New Zealand fashion designer Karen Walker have in common with an Australian denim production house? A whole lot, it seems. Karen Walker has just revealed her latest project; a collaboration with Outland Denim.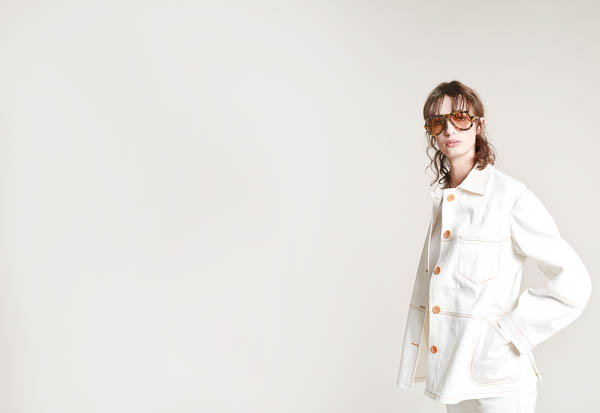 Based in Queensland, Australia, Outland Denim is a B-Corp company and one of the world's hottest right now, because not only does this brand employ vulnerable women in Cambodia and provide them with a full skillset and personal development opportunities, sustainability is also close to its heart, making jeans with a lower environmental impact a core focus.
Duchess of Sussex Meghan Markle has also caught the Outland Denim bug and the addition of Outland Denim to her wardrobe enabled the company to employ a further 46 seamstresses in their Cambodia-based production house.
We caught up with Karen Walker about the inspiration behind the collaboration and why it is so important to her.
The Karen Walker brand has long been committed to prioritising transparency, sustainability and ethical practices over profits. How important are these areas to you?
How you make your product is at the top of the agenda for any leading brand and will continue to be so.
---
What do you think are the most important areas businesses should be looking at when it comes to ethical business practice?
I think the most important thing is to ask yourself whether people really need the thing you're making or the service you're providing. Really consider every product you're making before you make it and be sure it has a purpose and there's a need for it.
For us, with this collaboration, we took the idea of utility denim pieces down to their very essence. What does the core of a utility workwear wardrobe look like and it turns out it's one jacket, two jeans, a skirt, a t-shirt and a tote bag.
At the other end of the spectrum, our Atelier service makes a product only when people actually need it so it's sparse in the extreme. And then, in the middle, with our ready-to-wear, we're making about a third of the styles we were five years ago and bringing the collections down to their very core. We believe less truly is better.
---
Have you noticed change happening in this space?
Yes, I think people understand the urgency now more than they did five or 10 years ago.
---
How did the Outland capsule collaboration come about?
Mutual admiration and a shared desire to make beautiful, well-considered and needed things.
---
How did the design process behind this collaboration work, and what did Outland and Karen Walker each bring to the table?
We brought our unique design and Outland Denim brought their unique way of producing.
---
Why is this collaboration so important to you?
Collaborations are a way for brands to learn from one another. In this particular case Outland Denim's Cambodian production team have learnt new skills required for the specific elements in our designs and we've learnt about new ways to approach the production of denim. Manufacturing of denim clothing has been very problematic for some time and Outland are on a journey to reinvent it and solve those issues that have been so intrinsic.
---
What was the inspiration behind the collection?
We wanted to create a family of garments that felt engineered and focused on structure and functionality.
---